Whole Foods Loses a Dangerous Game of Chicken
By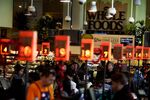 Whole Foods' vegan offerings tasted a little too much like chicken this week.
The health-food darling—fresh off a fat earnings report —accidentally switched the labels of its real chicken salad and its vegan "chick'n" salad in 15 of its stores in the Northeast on Tuesday and Wednesday.
Lifestyle choices aside, the mix-up could have posed health problems for shoppers (and a big mess for Whole Foods). The Food and Drug Administration noted the vegan salad contained soy, while the chicken salad was made with eggs—both serious allergens for some people.
Whole Foods said no illnesses were reported and quickly issued a recall.
Simple mistake. And despite the scary health consequences, it's hard to imagine too many shoppers quitting Whole Foods over this. But the incident highlights an overlooked risk at the growing crop of grocers relying on prepared foods to pump up profit margins.
A wide selection of in-house dishes were one of the reasons Fairway cooked up such a hot IPO last month. In the roadshow, Fairway bankers were keen to point out that 65 percent of the company's sales came from prepared foods and high-quality perishables.
Just yesterday, Sprouts Farmers Market, a group of 157 stores in the Southwest, filed an IPO prospectus with a similar pitch.
But the more these companies rely on egg salad and hot buffets, the more they expose themselves to a serious mix-up.
In its regulatory filings, Whole Foods has three sections that could cover the recent labeling mishap. One such passage addresses "brand value," another details "actual or perceived food safety concerns," and a third section outlines the challenge of complying with ever-changing labeling standards for designations like "organic."
"Even isolated incidents can erode trust and confidence," the filings read.
In other words, shoppers, grocers, and investors shouldn't undervalue the chicken-salad risk.