pursuits
'Weeds' Creator Kohan Dishes on How Netflix Drives Hollywood Insane
By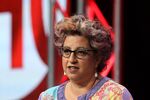 Despite a lifetime in Hollywood, Jenji Kohan has that laid-back Southern California charm. Her last show, Weeds, proved a long-running hit for Showtime, and her next show, Orange Is The New Black, will make its debut on Netflix on July 11. Kohan, the daughter of a television writer, went to Beverly Hills High School and now has a front-row seat for Netflix's march on the traditions of television studios and Hollywood titans, which we discuss at length in this week's cover story on Netflix and its chief executive officer, Reed Hastings. I chatted with Kohan about her new show and how Netflix is changing showbiz.
Did Netflix come to you and ask for a show or did you go to them?
I pitched to them while I was still doing Weeds. They bought the stories off the pitch. They said, "O.K., let's make 13 of those." That never happens. That's what you dream about. Usually, it's, "Let's see a script" or "Make a pilot." They were all in, which is delightful and a dream come true.
However, they were all-in quickly. I was still doing Weeds, running up and down stairs and trying to finish my baby that I'd been on for eight years. It was emotional, but also great.
Are the writers and producers in Hollywood sensing a new gravy train, with Netflix and Amazon.com both racing to put up original series?
Any time there's a new buyer in town and more outlets for what you do, you celebrate. Everyone in the business knows what they're up to, even if the world at large still needs to catch up. I'm from the creative side of Hollywood. I'm up for anyone that wants to support my work. If you have eyeballs and give me a budget and are nice to me, I'm in.
There are some business people that are still balking. They don't know what all this is or what it means. They will stay with the more reliable models, but I think they will just fall further behind.
Netflix knows way more about its viewers and what they watch and how long they watch it than the networks. Will you ask to see their data?
In theory, yeah, I want to see the data. But truthfully, it makes me crazy. Ultimately, I make shows because I love it. All that data makes my head spin. I can't rely on it for how I go about things.
Do you like the Netflix approach of putting all the episodes up at once?
I am of two minds on this. It's instant gratification vs. anticipation. Personally, I like to yearn a little and long for the next episode. On the other hand, I'm also a glutton. My kids love to dive in and eat whole series at once. I think that's something people enjoy.
It's a binge. Sometimes you enjoy it and sometimes you have feelings of shame and despair.
Netflix refuses to say anything about how many people have watched House of Cards or Hemlock Grove. How do the studios feel about this? It must be hard for them to tell if the Netflix model is working and to measure how afraid they should be.
I know [Netflix] pissed a lot of people off. There's rage because they won't reveal their data. It's driving the networks crazy, flat-out bananas because they won't share the data. I have heard executives say that if it were good news, they would share it. But I think they are being brilliant and playing it close to the vest. Everyone is talking about them.
Netflix executives have started to talk a lot about using their data to help pick which actors and plot lines will appeal most to its audience. What do you make of this mix of art and computer science?
My only fear, honestly, is that I don't think you can engineer the creative side and predict what people will love, based on what they've watched before. There is magic when people find a show and claim it as their own. They were really good about letting us find the right people for the characters. They expressed their preference for certain people and had opinions about it. At the end, I have to say they were really respectful. They're new to this, and I think it makes them really smart. They're so small and streamlined. They are confident, and I think they have a right to be.
Did you ever get feedback directly from the CEO, Reed Hastings?
I have never met the mysterious Reed Hastings. I just hear this name. It's a great name. It's a great character name. It's a romance novel name.
Before it's here, it's on the Bloomberg Terminal.
LEARN MORE