Rocket Man Musk Takes Off as 200 Richest Gain $17 Billion
Peter Newcomb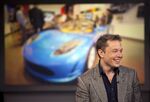 The world's 200 richest people added $17.5 billion to their aggregate wealth this week as U.S. jobless claims fell to a five-year low, bolstering optimism in the economy.
One of the week's big gainers was Elon Musk, chairman of Palo Alto, California-based Tesla Motors Inc. Shares of the electric car manufacturer surged 38 percent after posting a first profit, beating estimates and earning a top evaluation for its Model S sedan from Consumer Reports. Musk's net worth has doubled this year to $4.8 billion, according to the Bloomberg Billionaires Index.
"Things move in cycles," Musk, 41, said in an e-mail. "What really matters is whether it is an upward or downward sloping sine wave over time."
Tesla's market capitalization totaled $8.8 billion, exceeding the $7.9 billion for Turin, Italy-based Fiat SpA, the majority owner of Chrysler Group LLC. Fiat and Chrysler delivered a combined 1.02 million cars and trucks in the first quarter. Tesla said it sold 4,900 Model S sedans in the period.
The Standard & Poor's 500 Index rose 0.4 percent yesterday after hitting an all-time high on Thursday. The index is up 15 percent this year and has surged more than 140 percent since its bear-market low in 2009 amid earnings growth and monetary stimulus from the Federal Reserve.
Mexico's Carlos Slim, 73, remains the world's richest person with $73.5 billion fortune. Slim's lecture Thursday evening on digital education at the New York Public Library was interrupted by members of advocacy group Two Countries One Voice.
Hecklers staged a so-called laugh-in "to raise awareness about abuses in the world in a way that spurs dialogue among decision makers and thought leaders," according to a press release issued by the organization.
Gates, Buffett
The telecommunications tycoon has shed $1.7 billion from his net worth this year as shares of America Movil SAB, Mexico's largest mobile phone operator, have fallen 14 percent.
Bill Gates is $1.9 billion behind Slim. The 57-year-old Microsoft Corp. co-founder said on Tuesday the wealthy should pay more taxes as the U.S. continues to grapple with how to rein in its budget deficit.
"There's no doubt that as you look at balancing budgets to the degree you need more revenue" that lawmakers will need to look to the wealthy "to get a little bit more from them proportionately than you get from people as a whole," Gates said in an interview with Bloomberg Television before speaking at the Peterson Foundation fiscal summit in Washington. "I think that's pretty likely."
Warren Buffett is the world's third-richest person with $59.8 billion. The Berkshire Hathaway Inc. chairman said he ignores macroeconomic forecasts such as Bill Gross's "new normal" when investing and sympathizes with people who stuck with bonds amid low interest rates.
All-Time High
"It doesn't make any difference to me what he thinks about the future," Buffett, 82, said of Gross, manager of the world's biggest bond fund, at Berkshire's May 4 annual shareholders meeting in Omaha, Nebraska. "I have a general feeling that America will continue to work well."
Gross's firm, Pacific Investment Management Co., coined the term "new normal" in 2009 to describe an era of lower returns, heightened regulation and shrinking U.S. clout in the world economy following the 2008 financial crisis. The view contrasts with Buffett's optimism about the country where he and Berkshire Vice Chairman Charles Munger, 89, built a business valued at $276 billion. Berkshire reached an all-time high yesterday.
Billionaire Carl Icahn, 77, sought to upend a $24.4 billion buyout of Dell Inc. by its founder and Silver Lake Management LLC with an alternative bid that could have investors keep their stakes in the computer maker and get $12 a share in cash.
Icahn's Bid
Under Icahn's plan, announced yesterday, shareholders will be able to choose between a $12 a share cash distribution or $12 in additional shares valued at $1.65 apiece, according to a May 9 letter included in a filing. Icahn and Southeastern Asset Management Inc., which together own about 13 percent of Dell, are offering an alternative to the $13.65-a-share bid by Michael Dell and Silver Lake.
Icahn ranks 29th on the Bloomberg index with a net worth of $22.5 billion.
The new Guinean government indicated it might strip Israeli billionaire Beny Steinmetz, 57, of his license to mine the world's largest undeveloped iron ore deposit, valued at as much as $50 billion.
U.S. prosecutors are probing whether a man linked to Steinmetz' company, BSGR Resources Ltd., paid Guinean officials as much as $12 million in bribes for obtaining mining rights to a portion of the site. The unfolding developments are putting at risk a $2 billion payment Steinmetz is due and could tarnish his reputation in the global trade in high-end diamonds.
'Deeply Hurt'
"As a scion from a notable traditional diamond family, he grew up knowing that what makes a man is his reputation," said Chaim Even-Zohar, the author of "The Steinmetz Diamond Story," a book on the billionaire's business. "My guess would be that he is deeply hurt."
Steinmetz, whose fortune is valued at $8.9 billion, and BSGR, based in Guernsey, deny wrongdoing.
The Bloomberg Billionaires Index takes measure of the world's wealthiest people based on market and economic changes and Bloomberg News reporting. Each net worth figure is updated every business day at 5:30 p.m. in New York and listed in U.S. dollars.
Before it's here, it's on the Bloomberg Terminal.
LEARN MORE