Minimum Wage, Small Business, and Front Groups
by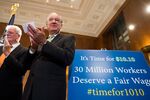 Where do America's 6 million small employers stand on raising the federal minimum wage? We asked a bunch of business advocacy groups that question in an article we wrote in February, shortly after President Obama proposed raising it from $7.25 to $9 an hour by the end of 2015. We found a growing number of advocates support a hike, including the U.S. Women's Chamber of Commerce, a majority of whose 500,000 members are small businesses, and Business for a Fair Minimum Wage, which its founder said had attracted support from more than 4,000 small business groups and owners.
An opinion piece published yesterday on Forbes.com seeks to discredit two of those supporters: Small Business Majority and Business for a Fair Minimum Wage. The post's author, Michael Saltsman, writes that the two are essentially serving as fronts for "activists [who] have sought the cover of ideologically friendly businesses to support their policies." He notes that Small Business Majority is "just another misleadingly named activist group more interested in playing politics than supporting good policy."
Saltsman's position as research director at the Employment Policies Institute was included at the bottom of his Forbes piece, but a description of his group wasn't. SourceWatch, a handy site maintained by the Center for Media & Democracy, a nonprofit investigative reporting group, has some notable results—here's the first paragraph from its description of the Employment Policies Institute:
The Employment Policies Institute (EPI) is one of several front groups created by Berman & Co., a Washington, D.C., public affairs firm owned by Rick Berman, who lobbies for the restaurant, hotel, alcoholic beverage and tobacco industries. While most commonly referred to as EPI, it is registered as a 501(c)(3) tax-exempt organization under the name of "Employment Policies Institute Foundation." In its annual Internal Revenue Service return, EPI states that it "shares office space with Berman & Company on a cost pass-through basis."
When I called the Employment Policies Institute yesterday to ask if that description was accurate, spokesman Stephen Ford told me it wasn't, because "we don't lobby." He said he wouldn't name the institute's backers but noted it was backed "by any number of individuals, like any nonprofit." Then he asked me to e-mail him. I'm still waiting for a response to the e-mail I sent him yesterday asking whether EPI was created by Berman & Co.
Point here is, lots of groups exist to advance agendas and often portray small business owners as a monolithic interest group to help make their case. It's worth knowing who is behind them, particularly when they're seeking to influence government policy that could affect lots of business owners and workers.
Update: This afternoon, Saltsman emailed to take further issue with SourceWatch's description of EPI. Specifically, he noted that neither EPI nor Berman & Co. has done work for the hotel  industry, and no one at either organization currently works for the tobacco industry.
Before it's here, it's on the Bloomberg Terminal.
LEARN MORE