Federal Sandy Aid Is Starting to Flow to NYC
By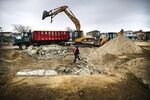 Federal money for Hurricane Sandy relief is starting to flow to New York City. This week, the U.S. Department of Housing and Urban Development approved the city's plan to spend $1.77 billion—the first disbursement of a $51 billion storm aid package Congress passed in January.
While much of the money will be used to rebuild homes toppled by the storm, the city says a good chunk of it will go to prepare structures to withstand future disasters. According to the city's plan, a portion of the $648 million in federal aid for homes will pay for things like elevating low-lying homes so they are above the flood zone. After the storm, the city updated its building code so new construction must be higher than before. But many older homes destroyed in the storm weren't even up to the prior code. The money will also help homeowners and landlords afford costly improvements, like moving boilers and electrical systems from basements to higher floors. Another $294 million has been allocated to make the city's infrastructure more storm-resistant. The city hasn't revealed details; recommendations will be issued later this month and could include building berms along the waterfront.
Of course, the smartest thing would be for people to move out of flood zones. But so far, the city hasn't had much luck persuading people to do that.
Before it's here, it's on the Bloomberg Terminal.
LEARN MORE