ESPN Wants to Pay Your Wireless Bill (Restrictions Apply)
The sports behemoth could be shaking up the wireless industry
by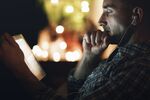 The Wall Street Journal reported yesterday that ESPN has talked with at least one wireless carrier about subsidizing customer data plans for their consumption of the company's sports content. Think of it as lettuce growers paying the Olive Garden to keep the bottomless salads coming. ESPN doesn't want its 45 million (and counting) digital users to stop watching on their iPads because they're afraid of overage charges now that most major carriers are moving to capped data plans. "It makes it a worry-free, guilty pleasure," says Roger Entner, an analyst at Recon Analytics. (ESPN declined to comment.)
As it stands, the Federal Communications Commission plays the role of nag in this scenario: It requires carriers to send alerts to customers as they approach their data limits. According to the Journal story, at least one carrier told ESPN that "significant numbers" of mobile users start to ration their consumption as they get close to their monthly caps. If ESPN were to foot the bill for watching SportsCenter on mobile devices, those users could keep on bingeing. Such an arrangement makes obvious sense for the carriers: They get paid for their service one way or another. The economics probably work for ESPN, too, though not right away.
With the mobile-ad market still in its infancy, it's unlikely that ESPN, at least at the outset, could sell enough ads to pay for its share of data use. But with mobile-ad spending almost doubling every year, the broadcaster wants to make sure it has the same massive footprint in the mobile market that it does in cable. "I don't think they can turn a profit [from the subsidy] in the first year," Entner says. "It's an insurance policy for their survival." The mobile side, he notes, also allows ESPN to offer advertisers a tighter grasp on viewers: "If you're viewing an ad in multiple media, the memorability of that ad is significantly enhanced. If you see it on television and then on your mobile phone and then online, you'll remember it a lot better than if you view it three times in the same medium."
Giving viewers a stress-free mobile experience also reinforces the value of their cable subscriptions—and the $6 a month that goes to pay for ESPN. The "worldwide leader" can demand these high "retransmission" fees from cable companies because people still like to watch sports live. And being able to watch live events away from home makes that cost easier for consumers to swallow. "Today, of course, the lion's share of [ESPN's] revenue is retransmission fees," says Ross Rubin, founder of Reticle Research. "So it's very important to protect that." ESPN restricts its live mobile content to authenticated cable subscribers. That, says Rubin, is not likely to change anytime soon.
If ESPN does get into the data-plan business, however, it could spur a broader shift for all manner of companies that do business online, especially those that use lots of bandwidth. Netflix and HBO Go customers, says Rubin, would likely wonder why those programmers don't follow suit. "It raises the question for the consumer: Why should I be double-billed for this usage?"
Before it's here, it's on the Bloomberg Terminal.
LEARN MORE