Documentary Film Investigates the (Alleged) Death of Books
By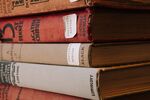 Who killed the printed book—or at least hastened its demise? That's the question posed in an absorbing new documentary, Out of Print, by director Vivienne Roumani, which made its debut last month at the Tribeca Film Festival and will be screening across the country this summer.  The primary suspects are e-readers, cell phones, and other gadgets, Amazon, Google, sluggishly evolving publishers, Facebook-addicted teenagers, people who pirate books, and perhaps even the susceptibility of the human brain to various distractions.
Out of Print frames one of the central cultural questions of our time: If books are the foundation of society, as the film's narrator, actress Meryl Streep, asks in a voice-over, how does their gradual evolution change the world of ideas—and how does it change us?
Roumani, who used to be a librarian, lined up an impressive array of interviews for the film. Author Jeffrey Toobin, Author's Guild President and novelist Scott Turow, former Harper Collins Chief Executive Jane Friedman, and Amazon founder Jeff Bezos all appear. Bezos waxes about the importance of physical books and novels in his life but doesn't quite account for the role Amazon has played in hastening the book's evolution. Bookstore owners such as Fred Bass, owner of the Strand Bookstore in New York, aren't exactly optimistic about the future. "This generation is still attached" to books, Bass says in the film. "A couple of generations down may not even know what a book is."
I spoke to Roumani this week about her film and the questions it raises.
Bloomberg Businessweek: Your film, Out of Print, is almost a murder mystery. Did you end up personally believing that there was one culprit in particular that hastened the decline in the popularity of printed books?
Roumani: It's hard to identify a specific culprit in what had been an evolving transition that suddenly erupted during the past decade. Michael Wesch, the cultural anthropologist who appears in the film, identified the start of the revolution as the moment when information could move faster than a human being—the telegraph overtook the horse. Xerography made it possible to scan and store information without first comprehending it. Amazon, Google, and others certainly created a new market model that had an enormous impact on traditional publishers, and that has been the dominant factor that affects the industry and all participants—authors, publishers, copyright, and of course readers.
But it seems to me that the ability of electronic media to deliver quick answers, coupled with the distractions inherent in the use of the various delivery devices, has been the most profound influence in moving people, especially the young, away from books and toward short-form text. Kids became "attention-span starved," as you put it, because of the development of a culture in which connectivity is a preeminent virtue and focus on long-form material becomes increasingly difficult. The book industry has certainly changed, both because of marketing innovations and new technologies, but the book in some format is still very much here, and reading long-form and the engagement required can still survive in the new formats if they are thoughtfully used. That is the challenge.
The teenagers you interview are kind a Greek chorus—and the things out of their mouths are pretty jaw-dropping ("I havent read a single book all year. … I just go on SparkNotes.com"). What do their frank answers say about the future of long-form reading?
The choruses that weigh in periodically—straight from the trenches, so to speak—are students from top high schools and from prestigious universities. Among my favorites is the college student who said poignantly, "I used to like to read, but now [SparkNotes] is just available to me." I conducted a survey of faculty members at some leading private and public universities about student reading practices, and the top three reasons they gave for students not completing reading assignments were "not used to it," "too many distractions," and "too difficult." It seems our choice is simple: Either insist on quality training for long-form reading or keep shortening the text.
The brilliant businessman Jeff Bezos said in Out Of Print that "there has been a shift over the last 20 years away from long-form reading … and toward short-form reading." He knows the book market—remember, he started Amazon.com as an online bookseller, and now he is investing in providing shorter forms—Kindle Singles and novellas. That's a smart business move for him, but I'd like to see a real effort to recover an appreciation for the long form, and I am encouraged by the survey answer, "they are not used to it." Let's get them used to it.
In the end the film turns to teachers and parents as the last line of defense of reading. Do you think there's a realistic hope for the future of the long-form book and for authors getting compensated in a way that supports writing as an occupation? Are you personally optimistic?
Have we ever known teachers and caregivers not to have an uphill battle raising and educating children? Every generation says the hill gets steeper, and perhaps it does, but we need to guide with conviction. I recognize that there are many sides to most issues, and I tried to visualize a world without long-form reading. After all, we do get lots of benefits from our digital tools. For example, I was among the first to digitize maps in libraries, because handling maps was very staff intensive and expensive, and now people can examine them without coming to the Map Room and removing each one individually.
But no matter how many times I tried to discard my preconceived notions about the importance of reading long form, I returned to the unwavering belief that good long-form reading and writing is required for clarity of thought; it's at the core of our individualism, and it is essential to democracy and our very freedom. Am I optimistic? The Grateful Dead lyricist, John Perry Barlow, who later helped found the Electronic Freedom Foundation, says in the film that a friend once called him a pronoid [the opposite of paranoid, or "someone with the pathological belief that the universe is a conspiracy on our behalf"]. I am also a pronoid, but I recognize that we have a lot of hard work ahead of us, and we do need to incorporate the proverbial "village" for success.
Before it's here, it's on the Bloomberg Terminal.
LEARN MORE