Despite Wear, True Religion Finds a Buyer for $835 Million
by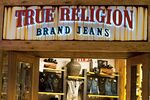 True Religion Apparel may be a little tattered, but it's still a handsome asset for TowerBrook Capital Partners, which plans to buy the luxury jeans company for $835 million.
The high-end denim brand made its name quickly after its 2002 launch, thanks in part to the hips of such celebrities as Jessica Simpson and Megan Fox, who favored its trademark colorful stitching and asymmetric seams. It fetched up to $400 for a pair of jeans and quickly built a steady business with such department stores as Bloomingdale's and dozens of its own retail outlets.
But the True Religion fabric has been getting a little thin. Anyone looking to fork out hundreds of dollars for a pair of jeans has a lot more brands to choose from today than they did a decade ago. As a result, True Religion margins started getting pinched last year, when it was forced to shift inventory to its discount outlet stores to drum up sales. It also lost ground with women, an important demographic for a fashion brand. Almost two-thirds of True Religion sales now come from men or kids.
The company began looking for a buyer in October. In March, founder and Chief Executive Jeffrey Lubell stepped down. Through it all, True Religion has been remarkably steady for a high-fashion company. Even during the recent recession, as consumers cut back on spending, it churned out double-digit profit margins and piles of cash. Last year, as the company went on the block, it was more profitable than Gap and almost as lucrative as Michael Kors. And it still has virtually no debt.
One question is the impact of the departure of Lubell, who led the company's 37-person design team. He agreed to act as a creative consultant for two years, but it remains to be seen how involved he will be if the deal is approved by shareholders. Meanwhile, the company is embarking on a new effort to woo women shoppers and shifting some design functions abroad in hopes of better matching the tastes of buyers in Europe and Asia.
TowerBrook's offer isn't cheap. At $32 per share, the private equity firm will pay a 9 percent premium on True Religion's recent market value, which is a little steep. Still, that's only 23 times the company's last 12 months of earnings, and a number of fashion companies, including Kors, Lululemon, and Burberry, have richer valuations.
Before it's here, it's on the Bloomberg Terminal.
LEARN MORE