Why Are Baseball Fans Staying Home?
A drop in attendance is not a death knell for baseball
By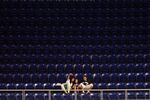 Yesterday the Miami Marlins announced that they would be closing the upper bowl of their stadium for some upcoming home games. The Marlins were merely formalizing a decision their fans have already made: to stay away in droves from Miami's less-than-two-seasons-old, mostly publicly financed ballpark. The Marlins news came one day after Bloomberg reported that the New York Yankees are selling half-off tickets through the online coupon service Groupon and less than a month after the Boston Red Sox's record 820-game sellout streak came to an end.
In each case, there is a particular explanation. The Marlins are baseball's version of a superfund site. The Yankees are starting guys named Nunez, Nelson, and Nix, and not Jeter and Rodriguez, on the left side of the infield. And the Red Sox are coming off their worst season since 1965. The plural of anecdote, as they say, is not data. Yet the data say the Marlins, Yankees, and Red Sox are not isolated cases. According to Baseball-Reference's comparison of this year and last through May 7, attendance is down by 417,192 league-wide so far. That's nearly three percent, which, while not a catastrophe, is enough to cause concern. The biggest drop, not surprisingly, is in Miami, where the Marlins have shed 175,102 fans through 16 home games. But even after subtracting the Marlins (which might not be a bad idea for the league), attendance is down 1.75 percent across baseball.
More worrisome for MLB is a drop in demand on the secondary ticket market. The average sale price, according to broker aggregating service SeatGeek, has dropped 16 percent, from $56.22 to $47, compared with last year through May 7. While 18 of the league's 30 teams have lower attendance so far this year, 22 are seeing softer demand in the ticket market. The Marlins, once again, lead the way, with a nearly 60 percent drop in average price, from $83.93 to $33.77. But since hardly anybody is buying Marlins tickets in the first place, the team has little effect on the overall price picture.
With 10 clubs experiencing a more than 20 percent drop in ticket prices on the secondary market, demand is down broadly and significantly. Early-season attendance worries are perennial in baseball, like odes to father-son bonding, but this year's poor start is hard to explain. In 2011, Commissioner Bud Selig blamed the slow economy, telling Sports Illustrated, "We're down four-tenths of one percent [in 2010] in the worst economic times since the Great Depression." While times are still tough for many, that should be less of an issue this year.
The other commonly cited factor is weather. A particularly rainy or cold spring can make things look worse than they are. If we update Maury Brown's recent tabulation in Baseball Prospectus of April rainouts since 2000, this year is tied for third soggiest in the last 14 years, with 17 postponements, not counting a game in Boston delayed by the marathon bombing. That figure doesn't capture the overall effect of dreary weather, but it's not a bad proxy. (Snow has certainly played havoc with the Colorado Rockies schedule.)
My guess is that baseball's slow start comes down to three main factors, all of which are temporary: the Marlins, weather, and down years in big markets. The list of  12 clubs that are down in both attendance and ticket prices includes the Philadelphia Phillies, Chicago Cubs, New York Mets, and the Red Sox. (The Yankees narrowly avoid joining them with a 2.4 percent bump in ticket prices.) With millions still watching on all sizes of screens, baseball probably isn't in decline, but ticket prices might finally, mercifully, flatten.