Why Are Baseball Fans Staying Home?
A drop in attendance is not a death knell for baseball
By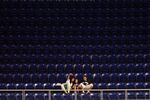 Yesterday the Miami Marlins announced that they would be closing the upper bowl of their stadium for some upcoming home games. The Marlins were merely formalizing a decision their fans have already made: to stay away in droves from Miami's less-than-two-seasons-old, mostly publicly financed ballpark. The Marlins news came one day after Bloomberg reported that the New York Yankees are selling half-off tickets through the online coupon service Groupon and less than a month after the Boston Red Sox's record 820-game sellout streak came to an end.