Southern New Hampshire, a Little College That's a Giant Online
Southern New Hampshire University profits from the Web
by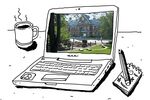 Southern New Hampshire University's quaint red-brick New England campus is home to 2,750 undergraduates, making it the size of some high schools. A casual visitor would never suspect that another 25,000 students are also enrolled online. That's roughly how many are in the bachelor's program at the University of California at Berkeley.
Harvard, Stanford, and the Massachusetts Institute of Technology have gained attention with their MOOCs, or massive open online courses, which are free and feature famed professors. Critics of these programs say that with no business model, they're little more than a branding exercise. Southern New Hampshire's College of Online and Continuing Education is no vanity project. The school's management forecasts that revenue will reach $200 million in the next academic year—four times what it took in for 2010-11—making it one of the biggest and fastest-growing online operations at any not-for-profit college in the U.S. "They are one of the most important players in the online space," says Robert Lytle, co-head of the education practice at Parthenon Group, a Boston-based management consulting firm. "They've painted a pathway for other schools."
Online, Southern New Hampshire offers standardized courses, a factory-style approach that has as much in common with Henry Ford as John Harvard. Classes are designed by so-called subject-matter experts—a professor of English or accounting—but taught by part-time instructors typically paid $2,500 per course. Classes don't meet; students read online materials or watch a video of a lecture, which they can do at night or during their lunch hour. A classroom discussion translates into posts on a discussion board. The total price of Southern New Hampshire's online bachelor's degree, $38,000, isn't cheap, but it's far less than the $112,000—not including housing or meals—the university charges undergrads for four years at the brick-and-mortar college.
For the current academic year, the university is projecting a $29 million profit from the online college, which amounts to a 22 percent margin. Some of the money is being plowed back into the online operation, which will soon have a dedicated faculty of 25 full-time professors. There's still plenty left over for a campus building boom. A new student center features a pub, big-screen televisions, and exposed stone walls, while a revamped dining hall boasts a sushi bar. The school will soon inaugurate a 308-student dorm and break ground on a 50,000-square-foot library, also largely paid for by profit from the online operation. "This is why college is so expensive," says President Paul LeBlanc, as he leads a reporter on a campus tour.
As the architect of the university's online strategy, LeBlanc has been deeply influenced by the ideas of Clayton Christensen, the Harvard Business School professor who coined the phrase "disruptive innovation" to describe the process by which companies at the bottom of the market use new technologies to displace more established competitors. In Christensen's view, higher education, with its skyrocketing costs, is ripe for a revolution; he predicts that in 15 years, half of all universities will be out of business.
LeBlanc sees no contradiction in using the fruits of the Internet to lavish attention on the 80-year-old university. Many students, particularly recent high school graduates, are looking for what he calls "a residential coming-of-age experience." Southern New Hampshire's real-life campus is also key to its virtual success. It's a way to distinguish the online college from for-profit institutions such as Apollo Group's University of Phoenix, whose high student-loan default rates and aggressive marketing have drawn scrutiny from Congress as well as state and federal authorities. LeBlanc says prospective applicants to the online college are often sold when they learn that the school is a full-service university, complete with a basketball team—even if they'll never watch it play.
The college's website and 24-hour call center bear more than a passing resemblance to those of the University of Phoenix, the nation's largest for-profit chain. "We have borrowed shamelessly," LeBlanc says. "We don't mind saying so." Like the for-profits, Southern New Hampshire markets itself aggressively, spending $20 million a year on television ads. For its online operations, which are housed in an old textile mill several miles from the regular campus, LeBlanc has hired veterans from Kaplan, the for-profit higher-education unit of Washington Post Co., and Education Management, the second-largest for-profit chain. At the same time, LeBlanc is undercutting for-profits on price, charging half as much for some types of degrees.
Concerns about quality hang over online college education. Recent Columbia University studies of tens of thousands of community college students in Virginia and Washington State found that those taking online courses earned lower grades and were more likely to fail or withdraw. Using profits from the online college to subsidize the regular college suggests the nonprofit institution could be charging online students less, says Kevin Carey, an education expert at the New America Foundation. The Internet enables vast cost savings, he says. "Who benefits from that savings? So far, the students haven't."
Even some of the beneficiaries of Southern New Hampshire's online push are uneasy. John Wescott, a 19-year-old sophomore at the physical campus, expects to graduate with only $15,000 in student debt thanks to financial aid. Yet he recalls a spirited discussion at a student-government meeting: "There was a sense that we were turning into the University of Phoenix and the value of our degree was going down."
Southern New Hampshire is offering a $5,000 two-year associate degree, a stripped-down online offering that lets working adults earn a diploma for showing competency, rather than for class credits. The Obama administration in April made Southern New Hampshire the first school eligible for federal financial aid using that approach.
To fight the notoriously high attrition rates in online programs, LeBlanc relies on a corps of 131 "academic sherpas." The guides monitor students' progress, calling them if they see a poor grade or if they fail to log on to their computer for days at a time. Dean Young, a 23-year-old from Skowhegan, Me., whose parents didn't graduate from high school, credits his counselor with helping him keep up with the demands of his forensic-psychology bachelor's program. Without that prodding, Young says, "I probably would have given up."
Before it's here, it's on the Bloomberg Terminal.
LEARN MORE