business
Nail-Biting Time for Third Round MBA Applicants
By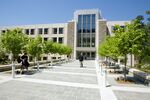 The fates of MBA applicants still awaiting admissions decisions will soon be sealed.
By May 15, most programs are expected to release the names of applicants who weren't offered spots in the third and final admissions round that feeds this fall's incoming class.
For those who didn't get accepted to the schools of their choice, hope is not lost. A few programs, including the University of Virginia's Darden School of Business, are offering feedback phone calls for those who are thinking about reapplying in the next admissions cycle. And, of course, there are other resources available to those who hold out and reapply to their dream schools. A few of our favorites are here, here, and here.
Below, a look at the latest admissions updates offered by some of the top-ranked programs:
The University of Michigan's Ross School of Business plans to offer spots to about 40 applicants from the third round and its current wait list by May 15. Admissions director Soojin Kwon expects to field a class of about 450 this fall, compared with about 500 last year. She cites "softening in the U.S. B-school market" over the last couple of years, as demonstrated by data from the Graduate Management Admission Council, for the smaller class size. Kwon says the school's new application will be available on July 1. In the next cycle, Ross will for the first time switch to a team-based interview format.
Duke University's Fuqua School of Business will release third-round applicants not offered spots on May 10. It will continue to review its wait list throughout the summer and notify applicants as decisions are made. The school does not have a schedule for that review but will have "wait list counselors" available to answer questions, according to a statement from the admissions office.
A student blogger for Fuqua answered questions about the wait list in April, writing: "After Round 3, things change somewhat. You could possibly hear from the admissions office at any point after Round 3. An invitation for admission would come by phone. … Waitlisted applicants should keep the admissions office updated regularly through the summer, because the waitlist could be reviewed at any time."
MIT's Sloan School of Management may start notifying candidates on its wait list at the end of the month, says Rod Garcia, the school's senior director of admissions. Admitted applicants must reply to their offers by May 24, which means the school will know if it has additional spots once that deadline passes. The Sloan School notified second-round applicants of its decisions by April 2. It does not have a round 3.
The University of Pennsylvania's Wharton School released third-round applicants on May 3 and has no stats to offer yet about its incoming class. Those looking to apply next cycle, however, are invited to set up a meet and greet with current Wharton students interning in cities around the world this summer.
Harvard Business School will notify third-round applicants by May 15, and the application for the class of 2016 is expected to be available at the end of the month. Admissions director Deirdre Leopold recently updated her blog to note that on May 10, the school's schedule for information sessions will change. Also starting on May 10, HBS will give campus tours at 1 p.m. EST on Mondays and Fridays. The school will host presentations about HBS, including student panels this summer, Leopold reports.
A handful of other schools have looming third-round notification deadlines but had no other admissions updates to offer. Stanford's Graduate School of Business and Northwestern's Kellogg School of Management expect to notify round 3 candidates by May 15, and the University of Chicago's Booth School of Business by May 23.
Join the discussion on the Bloomberg Businessweek Business School Forum, visit us on Facebook, and follow @BWbschools on Twitter.
Before it's here, it's on the Bloomberg Terminal.
LEARN MORE