LinkedIn Continues to Evolve as a News Site
Mathew Ingram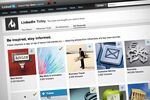 Although it is still seen by many as a place for networking with colleagues and/or posting a digital curriculum vitae, LinkedIn has been behaving a lot more like a news entity recently—and a revamp of its LinkedIn Today offering that was launched on Wednesday is one more step in that evolution. The site now offers "channels," or categories of news, much as a magazine would, and users can follow or subscribe to those channels, as well as to individual authors who are part of LinkedIn's Influencer program, another relatively new addition.
When a user clicks on the News heading in her LinkedIn toolbar, she now get a splash screen that outlines the different categories or channels of news she can subscribe to. Some examples are fairly obvious, such as Economy, Entrepreneurship, and Leadership, as well as broader categories such as Healthcare, Technology, and Social Media—and a few somewhat more unusual channels too, such as Things I Carry and My Best Career Mistake.
Once you pick your categories, the site shows you a redesigned LinkedIn Today page that looks very much like the front page of a magazine website: one larger story with a big image at the top, then smaller stories by category. But the biggest difference between a traditional magazine and LinkedIn's offering is that the stories on LinkedIn Today come from everywhere—hundreds of different sites and publications, from Wired to the New York Times. In other words, the site is acting more like a Flipboard-style aggregator, which probably isn't surprising, since LinkedIn recently bought Flipboard competitor Pulse.
Whether or not this is just another attempt by LinkedIn to make the site more "sticky" and get users to spend more time there, it has the potential to become a real competitor to other news aggregators and providers. As I mentioned in a recent post about why it would make sense for LinkedIn to buy Pulse, one of the tools the site has going for it is an understanding of a user's "interest graph" as it pertains to his business and/or professional life. That's a valuable commodity.
Under former Fortune magazine editor Dan Roth—who talked about LinkedIn's media ambitions on a panel at our recent paidContent Live conference in New York—the company has been expanding its reach for some time, including the launch of the Influencer program. That involves bringing in prominent personalities such as Sir Richard Branson and giving them a place to host their writing, something that is similar to what Evan Williams is trying to do with his new company Medium (although it is focused more on literary content).
LinkedIn may not have created a "massive media empire"—as one rather breathless piece posted (on LinkedIn Today, of course) described it—but there is no question the site has media-related ambitions, and it is following through on them. And its ability to target specific users based on their interest graph gives it a potentially powerful weapon other media entities lack.
Also from GigaOM:
How to Use Big Data to Make Better Business Decisions (subscription required)
How Analyzing Wikipedia Page Views Could Help You Make Money
A 99¢ HTC First Shows That People May Not Like a Phone Built Around Facebook
From Amazon's Cloud Guy: Six Hiring Tips for Startups
Tesla Delivers First Profit, Record Revenue, and Boosts Model S Guidance to 21K
Before it's here, it's on the Bloomberg Terminal.
LEARN MORE