Huawei's Chief Breaks His Silence
by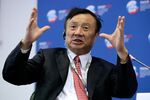 At last, he speaks.
Ren Zhengfei is the notoriously media-averse founder and chief executive officer of Huawei Technologies. Since launching the Chinese company a quarter century ago, he's built it into the world's second-largest networking-equipment maker, behind only Ericsson. When it comes to controversy, though, Huawei is second to none. Last month, U.S. Representative Mike Rogers (R-Mich.), chairman of the House Intelligence Committee, called Huawei a national security risk.
Even as pols like Rogers accused Huawei of being in league with China's military and intelligence operations, Ren kept quiet. When asked how the boss of such an important company could refuse to answer questions from the media, Huawei staff would say Ren was comfortable letting deputies speak for him. Addressing the accusations last October, William Plummer, a Washington-based spokesman for the company, told reporters that Huawei is an independent, employee-owned company and "should not be held hostage" to geopolitical tensions.
Now, after declining countless interview requests, the 68-year-old Ren has finally taken a step into the spotlight—albeit one far away from most of his company's big markets in Europe or around the developing world. Instead, Ren spoke to a group of local reporters while on a trip to New Zealand's capital. The CEO "fielded questions from a handful of journalists at Wellington's Museum Hotel on topics ranging from his personal view of China's human rights record to a rumour he will soon retire," reported Stuff, the New Zealand website owned by Fairfax Media.
Ren didn't reveal much. What is his relationship to the People's Liberation Army? What role, if any, does the Chinese military have in the ownership or operation of Huawei? Suspicions about that connection drive a lot of the anti-Huawei activity of lawmakers and officials in the U.S. and elsewhere, so Ren could have helped clear the air by talking about the army.
Instead, he described how he became a Communist. He joined the party in 1978, shortly after the Cultural Revolution, and presented himself as an idealist who still believed the era's serve-the-people rhetoric. "At that time my personal belief was to work hard, dedicate myself or even sacrifice myself for the benefit of 'the people,'" he said. "Joining the Communist Party was in line with that aspiration." As for human-rights issues in today's China, Ren said, "For people like myself who went through the Cultural Revolution and all those complicated times, I think China has gone through tremendous progress."
Perhaps in response to worries about his company's possible ties to China's government, Ren emphasized Huawei's plan to decentralize its operations in the countries where it operates. "The future model is to give the biggest say to our local teams who are closest to our customers and empower them so they have flexibility in interaction with customers," he said. "The headquarters or corporate functions will change into a more supporting and service function."
What about Ren's own plans? Huawei has been experimenting with a CEO rotation, in which several executives take six-month turns in the corner office. Ren didn't reveal plans to retire, but he did talk about what he might do next: "My life aspiration is to open a coffee shop, or maybe a restaurant, and then have a farm of my own."
Huawei sent out a press release today with more comments from Ren, including a statement about U.S. moves to discourage other companies from purchasing Huawei equipment. "Huawei has no connection to the cyber security issues the U.S. has encountered in the past, current and future," he said in the press release.
Somehow I don't see that changing any minds in Washington. Time for Ren to schedule another media briefing.
Before it's here, it's on the Bloomberg Terminal.
LEARN MORE