pursuits
Ernst & Young's Jim Turley on the Boy Scouts Reassessing Their Gay Ban
The Ernst & Young CEO and Boy Scouts board member on the organization's decision to lift its ban on gay scouts but keep the ban on gay scoutmasters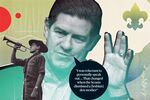 I was a Boy Scout myself, and I've been involved on the national board for years. It's a group that does an enormous amount of good in terms of training youths for leadership and service. I had been privately, from within, talking about the need to change the policy on sexual orientation for some time.
There are many challenges to the current policy. It's not in keeping with the thinking of the majority of Americans. And I don't think it will lead the Scouts to be as robust and successful for the youth of the country as it can be. It's not a policy I subscribe to. It's something we know we need to wrestle with.
But I was reluctant to personally speak out. I'm not a spokesman for the Boy Scouts of America. You don't want to do things that will rip at the functioning of the board. That changed when the Scouts dismissed a den mother in Ohio last year because she was lesbian. There was a lot of controversy—and rightly so, in my opinion. The discussion began to focus on the board: What does Jim Turley think? What does [AT&T Chief Executive Officer] Randall Stephenson think? Both of our organizations have 100 percent perfect scores with the Human Rights Campaign.
I came to the conclusion that the controversy risked damaging Ernst & Young's brand. I felt I needed to speak out. I talked to Randall, and he felt the same way. We both talked to the Boy Scouts leadership about our desire to let people know where we stood on sexual orientation.
The Boy Scouts is a member- and volunteer-driven organization. That's part of our strength, but it's also a challenge when it comes to making change. This was an issue in the corporate world a dozen years ago. The difference is that, as a leader, you can say who we are, this is who we're going to be, and let's move forward. When we decided to offer domestic partner benefits to LGBT employees, I didn't have to ask for a vote. The reality is that most of our partners were middle-aged white guys, and it probably wouldn't have passed.
I wish we'd gone further this time. I hoped it would have been more. But this is a substantial and significant change. There will be another vote in late May, and I'm hopeful and optimistic that some change will take place. I do not think that this should or will be the end of the debate. — As told to Diane Brady
Before it's here, it's on the Bloomberg Terminal.
LEARN MORE