Bluescape, the Touchscreen That Covers a Wall
The Bluescape can hold 160 acres of virtual space
By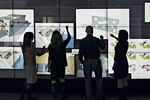 Apple has rolled out smaller models of its iPad. Jeff Reuschel is thinking bigger. The global design director for office-furniture maker Haworth, in partnership with interactive display company Obscura Digital, has created a touchscreen that covers a conference-room wall. Like a supersize version of CNN's Magic Wall, Bluescape displays a unified image across 15 linked 55-inch flat-screen monitors, each equipped with 32 specialized sensors to read users' hand movements. Unlike whiteboards or flip charts, it won't require much erasing or page turning: When zoomed out as far as possible, the digital board's virtual space totals 160 acres. Using Bluescape, corporate and university clients can store often scattershot brainstorming sessions in perpetuity. Co-workers or classmates can add digital sticky notes, either with a digital pen on the wall itself or by uploading documents from other devices, from which they can also browse the virtual space. "There are fewer and fewer people working in cubicles," says Reuschel. "The old-fashioned vertical surfaces are going away."
His wall-size touchscreen can be manipulated with the same finger-sliding techniques used to operate smartphones and tablets, as well as by a few extra tricks to manage its size. Tapping the screen opens a menu to add a digital sticky note or insert a document or photo. Sliding two fingers rotates the display's view 90 degrees, and three fingers moves it diagonally. A project timeline records changes to the wall. "The scale of this technology is just mind-blowing, that you can have such a large canvas to work with and so many people interacting with it," says Carnegie Mellon University entrepreneurship professor Stuart Evans, who's been testing a Bluescape system for more than a year in his classroom at the school's satellite campus in Silicon Valley.
Haworth, the second-largest U.S. furniture maker after Steelcase with about $1.3 billion in revenue, won't stop selling desks or chairs anytime soon, Reuschel says. While preparing a presentation on the company's chair line in 2004, he painstakingly pinned hundreds of index cards with pictures of and details about existing products on the far end of a conference room. After an executive asked for it to be rearranged, Reuschel abandoned the display rather than remove all the cards and start over. Trying to distill that kind of brainstorming session into bullet points in a memo loses too much nuance, he says: "When it's changed into any other format, it's almost useless." In 2010 a co-worker pointed him to a touchscreen that Obscura designed for the Hard Rock Cafe using preset buttons and commands rather than full interactivity. The two companies teamed up to develop Bluescape.
Scott Poulton, Haworth's vice president for strategic ventures and chief executive officer of the Bluescape subsidiary, says nearly 30 potential customers are testing the technology, including a large film company, a hotel chain, some manufacturers, and an architecture firm. (He declined to name them, saying he expects the first contracts to be signed in June.) Bluescape's most basic setup, comprising a single monitor, will probably cost about $30,000, Poulton says. Larger displays for more users will push the price well into the six-figure range, and a 15-screen setup like Reuschel's might run $1 million. Poulton says the venture will make most of its money by licensing its software and services.
The big hurdle for Haworth will be getting the wall screen's costs down. A decade of efforts by other companies to market an "iWall" have failed because of high prices, says Roger Kay, president of market researcher Endpoint Technologies Associates, who has not seen Haworth's product. He cited Hewlett-Packard's video collaboration and networking system Halo, sold to Polycom in 2011, as a similar tool hamstrung by cost. But "I love the technology," Kay says of wall-screen designs, adding that they're the only devices since the iPhone "that made me feel like there was a quantum leap forward."