Bank Branches Disappear From Poor Neighborhoods Like Longwood, Bronx
The same areas were targeted by predatory mortgage lenders
By and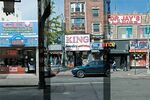 After opening more than 15,000 branches across the U.S. in the decade leading to the financial crisis, banks are retreating from lower-income neighborhoods, even as the industry posted its second most profitable year on record. Lenders have shut 1,826 branches since late 2008, and 93 percent of closings have been in postal codes where the household income is below the $52,762 national median, according to census and federal banking data compiled by Bloomberg.
The decline limits access to basic financial services for people who don't have bank accounts and forces them to pay fees for such activities as cashing checks and settling utility bills. "It's very hard for people to get an economic toehold in neighborhoods without banks," says Sarah Ludwig, co-director of the Neighborhood Economic Development Advocacy Project, a New York-based community support center.
About 10 million U.S. households lack bank accounts, according to a study released in September by the Federal Deposit Insurance Corp. An additional 24 million are "underbanked," using check-cashing services and other storefront businesses for financial transactions. The Bronx in New York City is the nation's second most underbanked large county—behind Hidalgo County in Texas—with 48 percent of households either not having an account or relying on alternative financial providers, according to a report by the Corporation for Enterprise Development, an advocacy organization for lower-​income Americans.
More than 96 percent of the 47,300 people who live in the Longwood neighborhood of the Bronx are black or Hispanic. Median household income in the postal code is $22,458, less than the 2011 national poverty line of $22,811 for a family of four, according to the U.S. Census Bureau. Two bank branches remained in the neighborhood by June 2012, down from five in 2008. The branches, a Popular and a Chase within 300 feet of each other on a busy street, are outnumbered by pawnshops, gold-buying stores, and check-cashing businesses. "There used to be a bank over there," says Amar Ndiaye, gesturing at a fast-food restaurant across the street from the table where he has sold electronics accessories for more than a decade. "We used to have more choices."
A dozen people stand in line wait-ing to use one of Chase's four ATMs as a No. 2 train screeches above on its elevated track. "People here are in a desperate situation," says Greg Jost, deputy director of the University Neighborhood Housing Program, a New York nonprofit group. "They're living paycheck to paycheck, and they're paying higher fees than people in Manhattan to make the same transactions." About eight miles south of the Bronx, the Manhattan neighborhood that includes Union Square has 34 banks, up from 26 in mid-2008.
In the past, banks were accused of "redlining"—refusing to do business with people in low-income neighborhoods. The banking withdrawal from such neighborhoods has occurred on the heels of a "reverse redlining" epidemic during the housing boom that saw lenders targeting minority residents with mortgages that carried ruinous credit terms. Banks acquired the loans from brokers, securitized the loans, and sold them to investors before the housing bubble burst. Major financial institutions settled federal complaints that their policies encouraged reverse redlining, paying more than $500 million in penalties.
The number of branches nationwide peaked at 99,540 in 2009, up 20 percent from 1998. Branches generally require $40 million of deposits to be profitable, according to estimates by Paul Miller, an analyst with investment bank FBR Capital Markets. Celent, a con-sulting firm, predicts that the number of branches could fall by as much as 40 percent within the next decade.
Officials at the biggest U.S. banks say income levels had nothing to do with the departures from less wealthy areas. "We've got a moral and regulatory obligation to be in those places and serve those customers," says Pablo Sanchez, JPMorgan Chase's national director of consumer banking. "We're not walking away from them."