ABBA Museum Gives Stockholm Tourism 'Money, Money, Money'
Katarina Gustafsson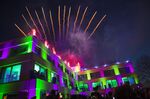 The members of Swedish pop group ABBA are back together for good. Dressed in their 1970s finest, they belt out the hits: "Dancing Queen," "Mamma Mia," "Waterloo."
Fans stop and stare. The four figures in front of them are not the real thing, just holograms at the new ABBA The Museum in Stockholm. It's as close as we'll get to a reunion, fans say. Group members have shot down suggestions of a reunion tour.
Packed with memorabilia including the helicopter shown on the cover of the 1976 LP "Arrival," the exhibition may attract 250,000 visitors in its first year, the museum says. ABBA has sold about 380 million albums and singles around the world.
"The museum will have a positive effect," says Peter Lindqvist, chief executive of the Stockholm Visitors Board. "It will be a trigger for people to say 'let's go to Stockholm.'"
ABBA, an acronym of the first names of Agnetha Faeltskog, Bjoern Ulvaeus, Benny Andersson and Anni-Frid Lyngstad, recorded eight albums between 1973 and 1981.
Following their victory with "Waterloo" in the Eurovision Song Contest of 1974, they had nine No. 1 hits in Britain between 1974 and 1980, according to the ABBA website. The disco tune "Dancing Queen" topped the U.S. charts in 1977 and the group also scored six No. 1 hits in Australia.
The museum, set inside the Swedish Music Hall of Fame that also opened its doors on May 7, contains costumes, gold discs and items from the Polar studio where ABBA recorded. A piano is connected to another one in Andersson's studio and will play whatever notes he strikes.
'Ring, Ring'
In a nod to "Ring, Ring," there is also a telephone that one of the four ABBAs will call. Visitors can also try on digital versions of the band's scene wear.
On the streets of central Stockholm, keyboards attached to advertising pillars give passers-by the chance to practice ABBA tunes before their visit. The museum, which charges 195 kronor ($30) for adults and 50 kronor for kids, has also teamed up with Spotify Ltd.
"Online music streaming is one of the reasons that ABBA has a new young audience," Ulvaeus said in a statement when the collaboration was announced.
Interest in ABBA revived with the "Mamma Mia!" musical in 1999, later made into a film starring Meryl Streep, Colin Firth, Pierce Brosnan and Stellan Skarsgaard.
The museum is backed by Ulvaeus, who with Andersson has created musicals such as "Chess." The female singers, who were both married to the male members during the band's active years, have both pursued solo careers.
Beatles Pilgrimage
"Going to Sweden without being able to visit a place for ABBA was like going to England without being able to see anything on the Beatles," Mattias Hansson, the museum's chief executive officer, says in an interview.
Stockholm already has more than 100 museums. The new one is on Djurgaarden island, next to the 17th-century Vasa shipwreck and Skansen, the world's oldest open-air museum. The number of commercial overnight stays in Stockholm increased to 10.8 million last year, 50 percent more than 2002, tourism officials say.
Other new attractions include a contemporary photography museum and walking tours in the footsteps of the characters in author Stieg Larsson's Millennium trilogy.
"This is super fun," says teacher Lotta Hyden, 46, visiting the museum with her father. "I think I'm the right age," she says after singing karaoke for the first time.
"This is the only reason we traveled here," says Marj Kao, 50, who first saw ABBA in New York in 1979. "It was my 17th birthday and Frida sang about being 17," she recalls.
Muse highlights include New York and London weekend guides, Lewis Lapham on history and Jeremy Gerard on theater.
Before it's here, it's on the Bloomberg Terminal.
LEARN MORE