When Opportunity Strikes: McDonald's Responds to Charles Ramsey, Cleveland Hero
by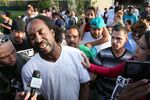 While most of the folks at McDonald's are selling burgers, some are busy putting out fires. In just the past six weeks or so, Massachusetts residents forced the restaurant chain to pull an offensive Big Mac ad, the Center for Science in the Public Interest hammered its children's menu as too salty and fatty, and hundreds of workers in New York staged a food strike. Meanwhile, in Michigan, the company settled a lawsuit with a Muslim community over false advertising. And just when the company seemed to be toying with good news—McMuffins all day!—it turned out that no, that's not logistically possible.
Then, however improbably, McDonald's found itself in a refreshingly marginal, nonvillainous role in a major news story. This week, Charles Ramsey of Cleveland, Ohio, helped save three kidnapped girls who had been missing for a decade. "I heard screaming. I'm eating my McDonald's," he said in an interview afterward. "I come outside, and I see this girl going nuts, trying to get out of her house."
Before the company announced that it would get in touch with Ramsey, privately, through a local store, McDonald's reached out on Twitter:
Don't be fooled by the hurried, haphazard grammar. "A lot of time and thought went into those 140 characters," says Ashley McCown, a specialist in crisis communications at the Boston firm Solomon McCown. This is because handling unexpected good press requires the same deft touch as handling bad press. Both can easily be bungled with hamfisted reactions. "There is no playbook," says McCown. "In crisis communications, there are standard rules of being forthright and doing things in real time. But with this, there is really a delicate balance, and it could be a mistake to do too much, too quickly."
If there's a precedent for McDonald's current situation, it occurred last December when a tourist in New York's Times Square captured the image of a police officer buying a cold and hungry homeless man a pair of boots from a Skechers store. As the feel-good story went viral on Facebook and the police officer did the morning-show rounds, the Skechers corporation kept mum. A few days later, though, the company's president announced it would be donating 50 pairs of boots to a New York homeless shelter.
So far, McDonald's has tried a different approach—publicly announcing that it's privately reaching out to the story's hero.
"Time and distance is important," says McCown. "There is an arc to a story like this—the story should be about the women right now, so it would be smart to let the story happen this week. If they want to do something from a PR standpoint, they need to wait and see if there is a meaningful way to participate. The last thing you want is an organization seeking PR for the PR buzz and appearing self-promotional."
Before it's here, it's on the Bloomberg Terminal.
LEARN MORE