Toyota Forecasts Profit Will Rise to Highest in Six Years
Anna Mukai and Masatsugu Horie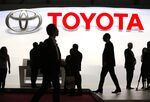 Toyota Motor Corp., the world's biggest carmaker, forecast profit and sales will climb to the highest in six years as the weakening yen gives it an edge over General Motors Co. and Volkswagen AG.
Net income will probably increase 42 percent to 1.37 trillion yen ($14 billion) in the year ending March 2014, the Toyota City, Japan-based automaker said in a statement today. Toyota shares rose in German trading.
The projections were based on the yen being valued at higher levels than now, giving Toyota room to beat its forecasts. The improving prospects illustrate how fast Japan Inc. has reversed its fortunes. Six months ago, when the yen was crushing corporate earnings by trading near postwar highs, President Akio Toyoda warned about the hollowing out of Japanese manufacturing.
"With the weaker yen, this should be a good year for Toyota," said Edwin Merner, president of Atlantis Investment Research Corp. In Japan, "the mood is good, it's getting better, and you can expect for people to buy more," he said.
Toyota's forecasts for net income, operating profit and revenue missed the average analyst estimates compiled by Bloomberg. The projections were based on the yen trading at 90 versus the dollar and 120 against the euro, though the yen is currently trading closer to 100 and 130.
Quadruple Cyprus
The shares have rallied 91 percent in Tokyo trading since mid-November, more than any major automaker, as Prime Minister Shinzo Abe helped reverse the appreciation of the yen, which had been hobbling exporters almost non-stop for half a decade. The rally has led to $97 billion in added market value, almost quadruple the size of Cyprus's economy.
Behind the rally -- Japan's benchmark Nikkei 225 Stock Average is at its highest since June 2008 -- is the yen, which has weakened against every major currency in the past six months, including 20 percent against the dollar.
The Japanese currency will end 2013 at 104 to the dollar and 132 versus the euro, according to the average estimate compiled by Bloomberg.
"The forecast for the Japanese yen is quite conservative on current trend," said Ashvin Chotai, London-based managing director of Intelligence Automotive Asia. "There's high likelihood that if the yen hovers around 100 that Toyota will most likely beat its own estimates."
Japan Beats
The weaker yen, which bolsters the value of overseas earnings, helped last quarter's net income more than double to 314 billion yen, or 22 percent higher than the average analyst estimate. By comparison, GM's profit fell 11 percent to $1.18 billion and Volkswagen's net income tumbled 35 percent to 2.03 billion euros.
Profit last quarter beat estimates mainly because of earnings from Japan, which unexpectedly rose to 309.8 billion yen, or 57 percent higher than the average estimate. Japan generated twice the profit from North America, Europe and the rest of Asia combined.
Profit last quarter from North America, Toyota's largest overseas market, was 39 percent below the 92.2 billion yen average estimate of five analysts surveyed by Bloomberg, as the company ceded market share last quarter to Detroit automakers.
In April, Toyota's sales in the U.S. fell for the first time in 18 months, Prius deliveries tumbled 21 percent and the Camry -- America's top selling car every year since 2002 -- was outsold for a second straight month. Among bright spots, sales of the Avalon sedan and the Lexus ES extended gains after both models were redesigned last year.
Detroit Revival
By comparison, Detroit's Big Three -- General Motors Co., Ford Motor Co. and Chrysler Group LLC -- all gained market share in the first quarter for the first time in two decades and led the industry to its best April since 2007.
Toyota's market share may drop slightly this year amid the resurgence in the truck market, which mainly benefits U.S. automakers, said Alec Gutierrez, an auto analyst for Kelley Blue Book in Irvine, California. Led by Ford's F-series, the three best-selling trucks in the U.S. are American brands.
Toyota is counting on models such as the new Lexus IS sport sedan, which arrives midyear, for entry-level luxury-car drivers who would otherwise buy German brands. A new Corolla -- the best-selling car of all time -- may go on sale this year.
"The new Corolla will certainly help them give them a shot in the arm," Gutierrez at Kelley Blue Book said. Still, given the competition and projections that fuel prices will remain relatively low through the year, Toyota's sales target of 2.2 million vehicles in the U.S. this year "seems a bit lofty," he said.
Incentives Fall
Another explanation why Toyota's sales and profit are diverging: incentives. The company has spent an average of $1,631 per vehicle this year, down from the previous year and half the average of Detroit automakers, according to industry researcher Autodata Corp. Honda's spending was even lower at an average of $1,469, according to Autodata.
"Adjusting the price of cars or suddenly adding incentives to gain volume sales would have a negative impact on their brand image in the long term, so that's not a part of Toyota's basic strategy," Issei Takahashi, a Tokyo-based auto analyst said. "Instead of fixing prices, they may try to strengthen marketing efforts to boost volume sales."
In Toyota's other Asian markets, profit reached 89.7 billion yen, below the 101.6 billion yen average analyst estimate, as demand from China -- where consumers have been shunning Japanese brands since a territorial dispute flared in September -- shrank for a third straight quarter.
Toyota's slide continued in April and the company's China head, Hiroji Onishi, said last month that a full recovery won't occur before autumn.
China's Aversion
Ford was among the biggest beneficiaries of China's aversion toward Japanese brands as its sales in the country leapfrogged over Honda last year and passed Toyota last quarter. GM, Volkswagen and Hyundai Motor Co. have also gained market share since protests erupted almost eight months ago.
For Toyota, one bright pocket of sales growth has been in Indonesia, where Toyota and its Daihatsu unit account for more than half of auto sales and where industry demand rose 18 percent last quarter, according to PT Astra International, the nation's top car retailer. Toyota is investing $1.3 billion to double output in Southeast Asia's largest economy, whose growth hasn't dipped below 4 percent in a decade.
Europe Slumps
While Toyota relies less on Europe than Volkswagen, GM, Ford or Hyundai, the Japanese automakers also fell victim to the economic slump in the region, where car sales are headed to a 20-year low. Profit from the region fell to 5.1 billion yen, and missed the average analyst estimate of 10.4 billion yen.
Toyota, whose global market share topped the industry at about 12 percent in 2012, accounted for only 3.4 percent of Europe's market, according to data compiled by Bloomberg.
Toyota built 44 percent of its cars in Japan in the year ended March, which makes the weaker yen a bigger benefit for the company than its nearest rivals. Nissan Motor Co. and Honda Motor Co. both produced about 22 percent of its cars at home last fiscal year.
The proportion of exports from Japan accounted for about 45 percent of Toyota's domestic output in the January-to-March period, compared with 42 percent a year earlier. At Nissan, exports made up 47 percent of its domestic production, while Honda had the lowest at 20 percent.
"In the short term, Toyota should work on expanding sales of export models like the Lexus, possibly through boosting spending on promotional campaigns or advertising and marketing," said Takashi Aoki, a Tokyo-based fund manager at Mizuho Asset Management Co. "With the weaker yen, the biggest benefit will be seen in the models made in Japan and exported."
Before it's here, it's on the Bloomberg Terminal.
LEARN MORE