SAT Tip: Preparing for the Test in 30 Days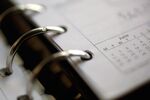 This tip on improving your SAT score was provided by Vivian Kerr at Veritas Prep.
Did you suddenly find out that your test day is a lot sooner than you thought? Not sure how to cram it all into a 30-day study plan? Though not advisable, it's still possible to get a good SAT score in one month, especially if you're already a strong student with a good grasp of English grammar, algebra, and geometry. Follow these SAT study tips to maximize your SAT resources in just a month.
Buy the Official SAT Study Guide. Once you've taken your first practice test, registered, and explored the SAT College Board site, you'll need to get busy with some serious practice questions. Buy the Official SAT Study Guide. It's $22 on the College Board site (you might be able to find cheaper copies elsewhere) and contains 10 official SAT Practice Tests with answer keys, as well as strategy advice and tips for handling every question type.
Review incorrect questions thoroughly. Don't ignore the ones you get wrong. You have to know why you got them wrong so you can learn that vocabulary word you didn't know, or memorize that formula you'd forgotten. Learning from your mistakes is key to SAT success.
Take four to six practice tests. Don't take a full test every day (which would be silly) but do schedule 4-hour chunks every five to six days, when you can do an entire test in one sitting. Don't be surprised if you're exhausted at first. It takes a lot more stamina and focus than you may think. Because you only have one month to prepare, four is the minimum number of practice tests you should take. More than six is probably too many; you'll risk burn-out.
Study every day, at least a little bit. You will need to be disciplined about your studies. Work backward from your test date. Don't cram on weekends only. With only a month to study, you'll need to do at least some SAT studying every single day, even if only for an hour.
Practice writing four to five essays. Use the timing conditions of the actual test so you are confident that you can complete your essay in the allotted time. Give your essays to your parents, friends, and teachers to read and get feedback on them. Don't ignore the essay: it's worth 25 percent of your SAT Writing score.
Try to stay as positive as you can. Like all standardized tests, the SAT is a learnable skill, and students have been able to raise their scores by hundreds of points in only a month. The good news: It'll all be over in less than 30 days. Good luck.
For more practice, take a full-length SAT practice test to sharpen your skills.
Before it's here, it's on the Bloomberg Terminal.
LEARN MORE