Remember: Bath Salts Are for Bathing
by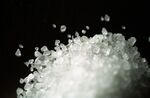 Bath salts, a drug that has been in the news a fair amount, has gotten a bad name recently, so much so that one might forget the original purpose wasn't to induce paranoid hallucinations. Too bad that the term now invokes a psychotic break instead of sitting motionless in a warm basin of water. And too bad that bathing has become an act of indulgence reserved primarily for infants. As Simone Weil in her 1939 essay "The Iliad, or the Poem of Force" observes: "Nearly all human life has always taken place far from warm baths." So on the occasion that you actually do make it into the tub, you might as well go all out. That's where bath salts come in.

Santa Maria di Novella, the Tuscan apothecary dating back to the 13th century, makes pomegranate bath salts (that's "Sali da Bagne" to you) for $55. And if you're happy with the concept of Italian bath products, but feel that $55 is too little to spend on a jar of scented salt, you're in luck. Acqua di Parma sells "Iris Nobile" bath salts for $95, which, the company cautions, only dissolve at 98.7 degrees and above. Get ready to bathe with a thermometer.
There's also a French alternative. La Societe Parisienne de Savons makes a range of bath salts at 26 euros ($35) apiece. A preemptive warning: the line is set in precariously tall glass jars which aren't the most stable thing to keep on the lip of a tub.
These salts aren't bargains but they'll ensure you have a relaxing bath, not a bad trip.
James Tarmy reports on arts and culture for Bloomberg Muse, the arts and leisure section of Bloomberg News

Before it's here, it's on the Bloomberg Terminal.
LEARN MORE