Plan for Armed Protest in Washington Poses Test for NRA
Paul M. Barrett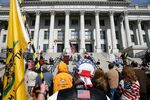 Plans for a provocative armed gun-rights protest in Washington present an important test for the National Rifle Association and all foes of gun control.
The Washington Post reports:
An Iraq war veteran and Internet talk show host is trying to gather thousands of protesters to march into the District on Independence Day with loaded rifles on their backs. But if Adam Kokesh follows through with his July 4 plans—2,500 people have signed up for the cause—he and his makeshift band will be met on the Arlington Memorial Bridge by two police forces packing guns of their own.
It is illegal for ordinary citizens to carry a loaded gun in public in Washington. Kokesh seems to be looking for serious trouble. From the Post: "We will march with rifles loaded and flung across our backs to put the government on notice that we will not be intimidated and cower in submission to tyranny," Kokesh wrote on his website. "Should we meet physical resistance, we will peacefully turn back, having shown that free people are not welcome in Washington. … We are truly saying in the SUBTLEST way possible that we would rather die on our feet than live on our knees."
Peaceful protest of Second Amendment rights—or any other rights—is well protected under the First Amendment. Washington plays host to numerous demonstrations, and the police there are expert at dealing with such situations. This threatened confrontation provides the NRA and its political allies with an ideal opportunity to demonstrate some restraint and common sense by condemning an obvious attempt to provoke pointless conflict, if not outright violence.
NRA spokesman Andrew Arulanandam did not immediately respond to an e-mail seeking comment. We'll keep you posted if he does.
Before it's here, it's on the Bloomberg Terminal.
LEARN MORE