Microsoft Names Amy Hood as First Female Finance Chief
Dina Bass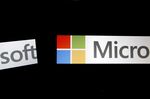 Microsoft Corp. named Amy Hood its first female chief financial officer, putting a 10-year veteran in charge of debt, finances and a growing cash pile at a software maker beset by plunging demand for personal computers.
Hood, 41, becomes CFO effective immediately, succeeding Peter Klein, Redmond, Washington-based Microsoft said in a statement yesterday. The search had focused on Hood, finance chief of the business division, and Tami Reller, her counterpart at the Windows unit, according to people with knowledge of the matter.
As CFO of the Microsoft Business Division, Hood played a central role in takeovers of companies including Skype Technologies SA, and she handles finances for the company's biggest unit by sales and operating profit. As CFO, she'll be key to managing Microsoft's $74.5 billion in cash and investments while helping Chief Executive Officer Steve Ballmer cope with struggles to gain share in smartphones and tablets.
"Amy always impressed me with her incredibly sharp analytical mind combined with a nuanced understanding of business strategy, and a willingness to take calculated risks," said Nokia Oyj CEO Stephen Elop, who was Hood's boss when he was at Microsoft.
The business division, Microsoft's biggest, includes Office productivity programs and generated $24 billion in sales and $15.7 billion in operating profit in fiscal 2012. It has drawn praise from analysts for fueling growth through acquisitions and new product areas, such as corporate telephony and collaboration software.
'Sustainable Record'
Those gains are helping make up for weakness in the unit's core word-processing and spreadsheet applications, which are suffering amid market saturation and slumping demand for PCs.
Sales in the Microsoft Business Division increased 24 percent and its operating margin widened four percentage points in the two fiscal years through 2012. That contrasts with the Windows unit, where weak PC demand led to revenue declines and narrowing margins in that period.
The business division has "had a sustainable track record where Wall Street doubted that business's ability to grow, and it's grown every year," said Brent Thill, an analyst at UBS AG.
Microsoft was little changed in extended trading after the appointment was announced. It had slipped 1 percent to $32.99 at yesterday's close, and has climbed 24 percent this year, compared with a 14 percent gain in the Standard & Poor's 500 Index.
Hood's challenge will be helping guide a company reeling from the biggest decline in PC sales on record in the period that ended in March.
Anemic Growth
Under Ballmer, Microsoft has revamped mobile software and begun a foray into tablet hardware -- yet gains in both areas have been anemic so far. Hood will also oversee the team responsible for sales of debt, currently at $16.9 billion, according to data compiled by Bloomberg.
Hood has a blunt, straight-talking style honed over eight years at Goldman Sachs Group Inc. and is not afraid to tell top executives, even Ballmer, if she disagrees with an idea, according to a person who has worked with her.
She has also drawn the respect of the investor community, Thill said.
"She's super friendly to shareholders," he said. "She's very approachable, open and easy to work with."
After Hood fielded an analyst's request for more detail on the performance of Office 365 -- the business software delivered via the Web, over the so-called cloud -- Microsoft disclosed in April that the product was on pace to generate $1 billion in annual sales, said Mark Moerdler, an analyst at Sanford C. Bernstein & Co.
Cloud Proponent
"She's a big proponent of the cloud and the value proposition for the company and for investors," Moerdler said. "She's very articulate, which is going to be important. We got into a conversation of the cloud in the last meeting and you could see her exuberance over the opportunity."
Klein said last month that he's stepping down to spend time with his family, and the company said he would be replaced by an internal candidate.
Hood began working at Microsoft in 2002 in investor relations and then worked under Klein, handling business strategy when he was CFO of the Office unit. Besides helping on Skype, Microsoft's biggest purchase, she also assisted on the $1.2 billion acquisition of Yammer Inc. last year.
Hood, who holds a bachelor's degree in economics from Duke University and an MBA from Harvard University, previously served as chief of staff for the server and tools division.
Rick Sherlund, an analyst who worked in research while Hood was in investment banking at Goldman Sachs and has met with her since her move to Microsoft, said the executive is "super smart and very, very energetic."
"She's had extensive experience talking to investors," said Sherlund, who is now at Nomura Holdings Inc. and rates Microsoft shares neutral. "Talking to Wall Street as CFO will come easy to her."
Before it's here, it's on the Bloomberg Terminal.
LEARN MORE