Get Out Your Checkbook: It's MBA Class Gift Time
Louis Lavelle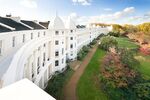 Graduation is just around the corner, and everyone who's ever graduated from business school knows what that means: time for the B-school you just paid a boatload of money to hit you up for a little more lucre as part of the annual rite of spring know as the class gift.
A number of schools have released updates on their class gifts so far this year. Here's a rundown:
• ESADE, a school that has never had a class gift, started one this year. Twenty-six MBA students, including six anonymous donors, have made contributions, but the school did not release information on its goal or progress.
• London Business School is asking MBA students to pledge 1 percent of their post-graduation salary for the next four years, a figure that could easily top $5,000 per student. The money will be used for renovation of the recently acquired Old Marylebone Town Hall, a building that will include lecture theaters, seminar rooms, dining facilities, and more. Last year LBS raised $636,445 in pledges.
• Graduates of Harvard Business School are tightwads by comparison. As of April 29, the Class of 2013 raised $19,156 toward a goal of $25,000, with 59 percent of graduates contributing. While the school's target might seem like a modest cash goal for an institution such as HBS, it's modest for a reason. Since 2006, the school hasn't exceeded $30,000 for the class gift, and it came close only twice: $29,793 in 2006 and $29,570 in 2007.
• In March, the MBA Class of 2013 at MIT's Sloan School of Management unveiled a goal to break the record set in 2011 when 87 percent of grads gave. How are they doing? So far, 31.4 percent of the class has donated to the school's annual fund, with a total of $107,456 in cash and pledges contributed. The average one-time gift was $168, and the average five-year pledge was $1,849. Last year, the MBA program raised $259,000, with 87 percent of the class contributing.
• Columbia Business School, which had a pledge rate of 87 percent in 2012, exceeded that this year, with 88.2 percent of grads contributing to the class gift. All donations go to the Columbia Business Fund, an unrestricted fund that provides seed capital for new programs and initiatives.
Join the discussion on the Bloomberg Businessweek Business School Forum, visit us on Facebook, and follow @BWbschools on Twitter.
Before it's here, it's on the Bloomberg Terminal.
LEARN MORE