Coke's Sweet $2 Billion Orange Juice Deal
By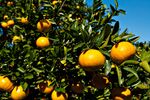 Buy or build? For the Coca-Cola Co., both, with its new $2 billion plan to lock in part of its orange juice supply. The deal gives Coke 20 years of oranges from some 5 million trees that will be planted, owned, and harvested by two Florida growers: Cutrale Citrus Juices and Peace River Citrus Products. Basically, it's a long-term lease, letting Coke secure supply without worrying about the volatility of OJ markets or having to sink capital into buying farmland and hiring field workers.
And supply is a major concern for Coke, the world's No. 1 fruit juice seller. With both Minute Maid and Simply juice brands, the company already buys one in three oranges in Florida.
Coke did not immediately return calls or e-mails, but here's how spokeswoman Susan Stribling explained the deal to the Wall Street Journal (paid):
It's about having more fruit for our business. We're expecting our juice business to continue to grow. We want to make sure as that demand happens, we have the fruit we need.
Coke is casting the agreement as a major win for the Florida orange industry. Florida Commissioner of Agriculture Adam Putnam called the transaction "a generous investment." It's also timely: Florida growers have been fighting imports from Brazil; a widespread bacterial disease has decimated crops; and U.S. orange juice sales have slumped for three straight years.
But the soft-drink giant appears to be getting a particularly sweet deal. It is cordoning off an awful lot of juice, and at only slightly above recent market rates. Last year the harvest from an acre of Florida orange trees fetched $3,573, according to the USDA. At that rate, Coke would pay about $89 million a year for the supply it just cornered. Over a 20-year period, that's roughly $1.8 billion. For the $200 million difference, the company gets a lot of certainty. And if Florida's orange crop continues to disappoint, the deal looks even juicier.