pursuits
Alex Ferguson Retires as Manchester United Manager
Allison McCann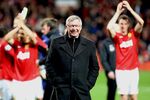 "Fergie time" is finally up for England's most famed soccer club, Manchester United. Alex Ferguson, the winningest manager in English Premier League history, announced his retirement this morning after 26 years and 13 English league titles. Man U has won England's top league a record 20 times.
"The decision to retire is one that I have thought a great deal about and one that I have not taken lightly. It is the right time," Ferguson said in a statement. Praise for his legacy was swift and abundant: The presidents of FIFA and UEFA, international governing bodies of soccer, added their appreciation; so did British Prime Minister David Cameron.
Although rumors of his retirement had been circulating for years, the news pushed the soccer club's shares down almost 5 percent this morning, an effect the club's owners accounted for when Manchester United went public last August. Included as an official risk factor, the filing read: "Any successor to our current manager may not be as successful as our current manager."

Winning games may have been the easiest part of Ferguson's job. At the wealthiest sports franchise in the world, the Scot managed to balance owner interests with player egos and supporter skepticism with club loyalties, building something that added up to more than just a collection of talented players.
One could argue that Manchester United is the only team in Europe that's been a cohesive team regardless of personnel, due largely to Ferguson's ability to recognize when players—even some of the best in the world—didn't fit into the system he was building. Alternatively, he could find the rather unspectacular players that fit perfectly—think Jonny Evans or Darren Fletcher—creating roles for them that wouldn't have existed elsewhere. He coached Wayne Rooney and Cristiano Ronaldo after they clashed at the World Cup and tamed some of the most volatile players in the league, Eric Cantona and Roy Keane.
But Ferguson's ultimate success was in his longevity. Soccer is unique in that it can drag on for hours yet be decided in a second. Ferguson was always thinking long-term, grooming young players and, in recent years, being mindful of splashing huge sums of money on players in light of coming league penalties for teams that exceed spending limits—all while still managing to win the Premier League title three times in a row. Twice.
By this afternoon, Manchester United's stock had almost climbed back to yesterday's level, but the club will feel his absence for much longer. The future of Manchester United's success, as a soccer club and a business, hinges upon its ability to maintain its current talent and keep Ferguson's established system intact. Finding someone who can do that well, and for the next 26 years, will be the toughest deal the club has yet to make.
Before it's here, it's on the Bloomberg Terminal.
LEARN MORE