A Tale of Two Electric Car Makers: Tesla Soars, Fisker Flops
by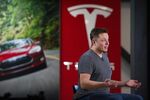 It was the best of times for Tesla Motors. It was the worst of times for Fisker Automotive.
On Wednesday, Tesla delivered its anticipated first-quarter profit and went a step further, hiking its full-year sales forecast to 21,000 cars from 20,000. Shares of Tesla surged in after-hours trading, rising more than 25 percent at the time of this report to $70.28, an all-time high. Revenue in the first quarter rose 83 percent from the prior period to $562 million, and Tesla reported net income of $11.2 million. (The full shareholder letter is here [PDF].)
Over at Fisker, Tesla's bitter rival, things are less merry. The company has laid off much of its staff and hired bankruptcy consultants. Earlier in the week, Fisker also became a principal subject in a New York Times takedown of Kleiner Perkins Caufield & Byers, the venture capital firm that has poured huge amounts of cash into the automaker. Ray Lane, the former Kleiner partner who sits on Fisker's board, was recently made partner emeritus there following a string of poor investments.
In Wednesday evening's earnings call with analysts, Elon Musk, Tesla's chief executive, didn't take the opportunity to kick Fisker while it's down. Instead, he made the case that Tesla still has room to grow and expenses to cut. Musk boasted that Tesla's gross margins are climbing as the company cuts overtime pay by ironing out kinks in its processes, including by increasing automation.
In addition, Tesla's volumes of about 5,000 Model S sedans per quarter have helped it get better deals from suppliers, Musk said. "Some of them thought we would do 3,000 to 5,000 units over the whole lifetime of the products," he said. "We're like, uh, yeah, we did that last quarter."
Fixing Tesla's quality and supply issues remains a challenge. The Model S's ultra-fancy door handles that suck into the body of the vehicle, so that they're flush with the frame when you're driving, have had software problems. The car's 12-volt auxiliary, lead acid battery has also been a pain. "There's a little one that we bought from a reputable supplier—an American company who outsourced it to China who then outsourced it to Vietnam," Musk said.
Musk said changes to Tesla's financing program will increase the potential U.S. market for the Model S tenfold, to the country's top 10 million households. He also expects to sell about 10,000 cars in Europe and another 5,000 in Asia once the Model S starts shipping overseas. "China is kind of a wild card," he said.
Over the past few weeks, Musk has held one press conference after another to announce financing, service, and charging changes. It's been the Musk Spring. Still, he insists that Tesla has yet to flex its marketing muscle, choosing to wait until its manufacturing is fine-tuned. "I think you need to make sure your house is in order first," he said. "I think there is the potential next year for a fairly significant increase in volume."
Musk seems to be on TV all the time already, so it's hard to imagine what the Tesla marketing machine would look like unleashed.
Before it's here, it's on the Bloomberg Terminal.
LEARN MORE