'Fruit Ninja' Will Add China Content to Narrow 'Angry Birds' Gap
Bloomberg News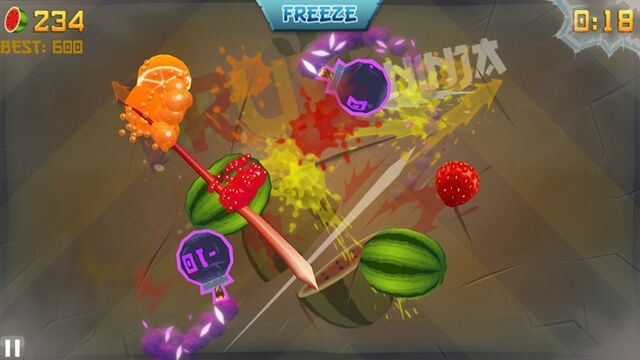 Halfbrick Studios Pty, creator of the "Fruit Ninja" smartphone game, will add China-specific content to win users in the world's most populous nation and narrow the gap with Rovio Entertainment Oy's "Angry Birds."
In the next three months, Halfbrick will release a China version of Fruit Ninja that will include special weapons and backgrounds designed to increase its local appeal, Phil Larsen, chief marketing officer for Halfbrick, said in an interview in Beijing yesterday. The Brisbane, Australia-based company's game has been downloaded 500 million times, less than a third of the 1.7 billion downloads for "Angry Birds."
Halfbrick has its work cut out to match Rovio, which has made tailoring products for China a key strategy. Espoo, Finland based Rovio built an update of its "Angry Birds Seasons" game around China's Moon Festival, sells Angry Birds-themed mooncakes during the holiday and publishes comic books that use its bird and pig characters to tell Chinese legends, according to Chief Marketing Officer Peter Vesterbacka.
"A lot of foreign companies have this hubris that we are going to bring you this great product and you are going to love it," said Mark Natkin, managing director of Marbridge Consulting Ltd., a market research firm in Beijing. "It's a common mistake to think that localization means translation from English to Chinese and then you're done."
Universal Approach
Halfbrick designs games to be as universal as possible so they translate easily with minor localization, Larsen said. About 30 percent of "Fruit Ninja" players are in China, so the strategy has had some success, he said.
Now the game maker seeks to do more.
"Fruit is universal so everyone understood what was going on and in China particularly the game took off like crazy," Larsen said. "In learning a lot more about the China market over the past two years, we saw this massive emerging market and we didn't really think we were hitting as much as we could and ultimately getting as much revenue."
Evernote Corp., an online note-taking and document storage service, received advice to localize when it was planning to enter the China market last year and "happily ignored it," Chief Executive Officer Phil Libin said.
"Tastes are really the same here," Libin said in a May 7 interview in Beijing. "If you can make a product good enough, everyone in the world likes it and it works in China just like it works in Japan just like it works in Zurich just like it works in California."
China will overtake Japan as Evernote's largest user base outside the U.S. in the next few months, Libin said. There are currently 4 million Evernote users in China, and 5 million in Japan. The company's China service, which started a year ago, is already adding more than 10,000 users a day, accounting for more than 10 percent of global user growth.
Brand Building
For Halfbrick's Larsen, Rovio offers other lessons too.
"If you look at a game like Angry Birds it's extremely huge," said Larsen. "Halfbrick wants to expand in other areas like merchandising, and animation as Rovio has done."
Rovio expects more than half of future sales to come from consumer products such as clothing as the company expands its brand. Consumer goods accounted for 45 percent of last year's $199 million of sales, and that proportion will rise as Rovio sells more T-shirts and toys featuring the red birds and green pigs of the "Angry Birds" game, Vesterbacka said yesterday.
"Our goal is to be more Chinese than the Chinese companies," Vesterbacka said.
When the company made its Moon Festival update for "Angry Birds Seasons," it introduced a part of Chinese culture to millions of its game's users worldwide, he said.
"This makes us one of the biggest exporters of Chinese culture," Vesterbacka said. "Not only are we bringing Angry Birds to China, we are also bringing China to the world. How many companies can say that?"
— With assistance by Edmond Lococo
Before it's here, it's on the Bloomberg Terminal.
LEARN MORE