The Meaningless Folly of Sanford vs. Colbert-Busch
By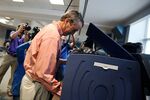 Voters in South Carolina head to the polls today (on Tuesday, May 7) to decide the House race that has been a gift to tabloids and political reporters alike: the special election in the 1st Congressional District between Elizabeth Colbert-Busch (big sister of you-know-who) and former Governor Mark Sanford, whose marital travails and overall looniness deserve their own Bravo series, with catty swipes from Andy Cohen.
A week ago, everybody thought that Colbert-Busch would win. By yesterday, that sentiment had shifted to Sanford. It hardly matters. South Carolina's 1st District is overwhelmingly Republican—Mitt Romney (no son of the South) beat Barack Obama there 58-40. So a win by Colbert-Busch would be a measure of just how disgusted local Republican voters are with Sanford's behavior, while a win by Sanford would basically measure the same thing. The result won't say anything meaningful about the national political climate.
(Incidentally, anyone interested in a deep look at how a Colbert could win an election in South Carolina might enjoy this 2007 piece I wrote about how Stephen Colbert, who was then mulling a presidential run, could pull off a coup in his home state—his strategy would have involved potheads and candy bars.)
The identity of tonight's victor doesn't matter for two reasons. First, a Democratic win would do nothing to alter the dynamic in the House, where Republicans enjoy a 17-seat majority. Second, Republicans are all but guaranteed to carry the seat next November, with or without Mark Sanford. "If Elizabeth Colbert-Busch somehow wins, she'd be the instant underdog in 2014," says David Wasserman, the House editor for the nonpartisan Cook Political Report.
Indeed, the district is so deeply red that 119 current Republican House members hail from a district more Democratic than this one. So while today's special election offers plenty of entertainment, it has about as much political import as any other reality TV show where the participants mostly embarrass themselves.
Before it's here, it's on the Bloomberg Terminal.
LEARN MORE