Socks. Not Stocks. Socks.
by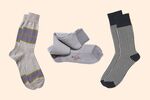 Questions of sanity can masquerade as questions of taste. Why should a pair of socks cost more than a discount plane ticket? And yet some pairs do, which means somebody out there is buying them, and they don't even come with retractable landing gear.
As you read this, that special somebody is wriggling his toes in a pair of $250 Loro Piana "Pied de Poule" baby cashmere socks. Someone else, at this moment, is padding around the house (the yacht?) in $185 Etro graphic print cotton-blends. Pity them. They know not what they do.
This is like spending hundreds of dollars on a paper plate. It doesn't matter how durable or pretty or well-crafted socks are. Their purpose is to swaddle your feet. Their fate is to be soiled and, ultimately, destroyed.
So do yourself a favor -- skip the striped numbers fromYohji Yamamoto that cost an inexplicable $70 and swing by Uniqlo. A pair is yours for $3.30. You can use the stacks of bills you save for something more sensible, like kindling or confetti.
James Tarmy reports on arts and culture for Bloomberg Muse, the arts and leisure section of Bloomberg News.

Before it's here, it's on the Bloomberg Terminal.
LEARN MORE