Funding for New Georgia B-School Almost Complete
by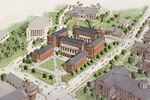 The University of Georgia's Terry College of Business is trying to raise $20 million in the final leg of a fundraising campaign that is expected to bring $100 million to the school.
The school said yesterday that it's already raised $80 million, including gifts from alumni such as Aflac CEO Dan Amos and former Georgia Pacific CEO A.D. "Pete" Correll. The campaign is the largest of any individual college in the university's history, the school reports.
Seventy million dollars of the campaign is earmarked for a new business complex to be completed in three phases—the first, to be finished in summer 2015, will house the university's graduate business programs. The school reports that it has raised $50 million toward that goal. The final construction phases will be completed in the summers of 2017 and 2019, respectively.
Ten million dollars of the campaign is earmarked for academic programs, including funding for graduate business scholarships. Another $10 million is slated for faculty support such as professorships and chairs.
"The biggest change will be the addition of space that isn't used for classes," says Terry College Dean Robert Sumichrast. "We are planning to add 42 project rooms where students can work in small teams and plan out-of-class activities."
Sumichrast adds that the new business complex, a 230,000-square-foot facility, will be able to accommodate 25 percent more students than the school's current building can hold. Groundbreaking began in April on the site, on the west side of campus near the student center.
With a combined enrollment of about 3,300 in Terry's graduate and undergraduate business programs, current business classes are spread across 16 university buildings, says Martee Horne, the senior director of development and alumni relations.
The school is hardly alone in raising money for new facilities. In April, 28 business schools were either fundraising for new buildings or in the midst of construction, according to the Association to Advance Collegiate Schools of Business.
Construction projects are already under way at the Yale School of Management, Harvard Business School, Rutgers Business School, Wake Forest University, Arizona State University's Carey School of Business, and the University of Utah's Eccles School of Business. Meanwhile, fundraising campaigns are ongoing at Oregon State University, the University of Kansas, and St. Bonaventure University, the AACSB reports.
Join the discussion on the Bloomberg Businessweek Business School Forum, visit us on Facebook, and follow @BWbschools on Twitter.
Before it's here, it's on the Bloomberg Terminal.
LEARN MORE