Business Students Question Buffett, Gates
Louis Lavelle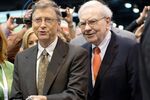 It's not very often that an MBA student gets to pick the brains of Warren Buffett and Bill Gates, but during an interview with Fox Business Network yesterday, the business icons and good friends fielded questions (via video) from students interested in everything from what motivates the two to what they see as the global challenges ahead.
Jennifer Hajj, an executive MBA student at Columbia Business School, asked the Berkshire Hathaway chief executive officer: "How has your investment strategy and the performance of your businesses been affected by the prolonged low-interest-rate environment? And how are you positioning now—for interest rates to increase or remain low?"
Alex Sturges, a student in Wake Forest's management program posed a more personal inquiry to Buffett: "What keeps you motivated? After achieving as much as you have and being as successful as you have, what keeps you coming into the office every day?"
Stephanie Chen, a part-time MBA student at Georgetown's McDonough School of Business, had a question for the Microsoft founder: "What is the greatest global challenge of the next 10 years and what can this generation of young business leaders do to solve that problem?"
To hear the answers Buffett and Gates gave, roll the video.
Join the discussion on the Bloomberg Businessweek Business School Forum, visit us on Facebook, and follow @BWbschools on Twitter.
Before it's here, it's on the Bloomberg Terminal.
LEARN MORE