B-School Traditions: The Tomato Can Loving Cup Award
Geoff Gloeckler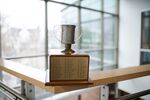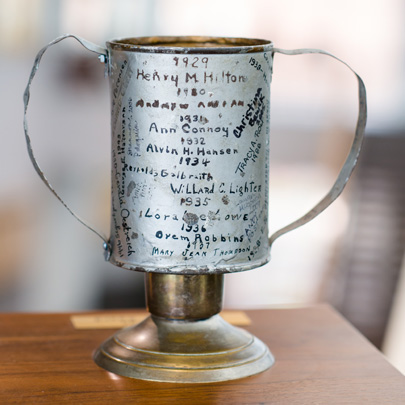 Nearly every business school distributes awards at graduation to recognize high-achieving students, but only one hands out an old soup can.
At the undergraduate commencement ceremony each spring at the University of Minnesota's Carlson School of Management, one student is awarded the "Tomato Can Loving Cup Award," in recognition of outstanding leadership outside the classroom. It's the only award actually presented at the graduation ceremony. And it's not just a cute name: The trophy is an old, dented soup can welded atop a wooden base.
The cup has been awarded annually since 1929 to the undergraduate business student who has best exemplified high performance and outstanding service. The selection committee looks for students who have worked to better the business school and university—as well as the communities around campus—according to Steve Rudolph, manager of school relations at Carlson.
The trophy itself was built by Henry Milton, a business student, out of an old tomato can and one of his mother's candlesticks. Engraved on the side of the metallic can, along with the names of each recipient, is a description of the award: "Presented annually to that person who in the course of the year has rendered the most distinctive service to the school." Milton was the first recipient of the award, in part because of the creativity he displayed in building the trophy.
Today, the winner receives a monetary award of $500, as well as a half-tuition scholarship to the school's MBA program and an hour with the award to take photos. The 84-year-old trophy is permanently housed in the business school. The 2013 recipient of the Tomato Can Loving Cup will be announced at the commencement ceremony on May 20.
Join the discussion on the Bloomberg Businessweek Business School Forum, visit us on Facebook, and follow @BWbschools on Twitter.
Before it's here, it's on the Bloomberg Terminal.
LEARN MORE