You've Been Punk'd, at the Met
by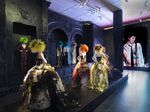 Walking through the Costume Institute's new "Punk: Chaos to Couture" show at the Metropolitan Museum of Art, visitors are treated to two "facsimiles," one after another. The first is a faithful recreation of the bathroom at the New York punk venue CBGB, or at least faithful to its most gracious moments. The second, past a few dresses, is a recreation of Vivienne Westwood's London boutique, complete with a period cash register and a double rack of T-shirts.
All vividly on display in this slideshow .
Somehow the dioramas across the park in the Museum of Natural History come to mind -- theAlaska Brown Bear scene , or the Mountain Goat tableau. These are meant to convey the visceral excitement of the subjects' original habitat but inevitably carry an elegiac tinge. You can't escape the tragedy of two giant, dead bears posed against a painted backdrop, or of the meticulously trashed toilets and lonely racks of clothes at the Met. The helpless indignity of the mountain goat, frozen for eternity, is there for all to see in its empty glass eyes. It was only a matter of time before the same thing happened to Patti Smith.

She hasn't been bagged and stuffed, but CBGB has gone the way of the Great Plains, bulldozed and replaced with chain stores. You won't see Sid Vicious behind glass. For now, you'll have to settle for an abused urinal.
James Tarmy reports on arts and culture for Bloomberg Muse, the arts and leisure section of Bloomberg News.

Before it's here, it's on the Bloomberg Terminal.
LEARN MORE