The Best Undergrad B-Schools for International Business
Geoff Gloeckler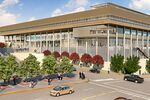 As part of the 2013 Best Undergraduate B-Schools ranking, Bloomberg Businessweek asked undergraduate business students from the Class of 2013 to tell us, via an online survey, about their business school experience, from getting in to getting a job. One section of the survey singled out specific aspects of the business program and asked the students to grade them on a scale from A to F. Over the next few weeks, we will publish the top 10 B-schools in each of 10 specialty areas, from accounting to entrepreneurship, culminating with publication of the entire undergraduate specialty ranking including 124 schools.
Today we look at international business (IB), an area of focus that has become important to both students and employers over the past decade. At the top of the list is the University of South Carolina's Moore School of Business. Surprised? You shouldn't be.
The Moore School has made a name for itself as a top destination for undergrads interested in studying international business or global supply chain and operations management. "Our goal is to bring the world of international business to our campus and to provide pathways for students to experience that world firsthand," says Marty Roth, professor and chair of Moore's international business department.
As part of the international business curriculum, students take courses targeted at specific geographic regions, thematic courses on managing international business practices, and functional courses like international finance. They're also required to complete four advanced language courses in Chinese, French, German, Italian, Japanese, Portuguese, Russian, or Spanish. Additionally, IB majors spend the spring semester of their junior year abroad at a partner business school like Erasmus University in the Netherlands, Tsinghua University in China, and Yonsei University in South Korea. Additionally, students must complete a second functional major—accounting, finance, economics—within the business school. Enrollment for the international business major is capped at 160 students per year.
The University of North Carolina's Kenan-Flagler Business School and Washington University's Olin Business School round out the top three, according to our survey.
Top Undergraduate Business Schools for International Business
| | | |
| --- | --- | --- |
| 1. | South Carolina (Moore) | 1.108 |
| 2. | North Carolina-Chapel Hill (Kenan-Flagler) | 1.159 |
| 3. | Washington U. (Olin) | 1.175 |
| 4. | Richmond (Robins) | 1.194 |
| 5. | Virginia (McIntire) | 1.200 |
| 6. | New York (Stern) | 1.219 |
| 7. | Fordham (Gabelli) | 1.242 |
| 8. | Florida International (Landon) | 1.246 |
| 9. | Belmont | 1.250 |
| 10. | Babson | 1.270 |
Methodology: The list is based on student responses to the question asking them to rank their program's international business offerings. Points are awarded for each response—one point for an A grade through five points for a grade of F—and then averaged for each school. If students did not have exposure to the area in question, they could answer NA, and their response was not included. The ranking is based on the average; schools with the lowest average are ranked the highest. The average international business score for all 124 undergraduate business schools in the ranking was 1.515.
Join the discussion on the Bloomberg Businessweek Business School Forum, visit us on Facebook, and follow @BWbschools on Twitter.