MBA Journal: Seeking Home Work
Nupur Sharma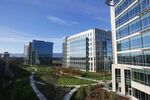 To triple jump or not to triple jump, that is the question. Most MBAs are in the program because they are looking for a change from what they were previously doing. The ultimate change, or the triple jump, describes those who are looking to change role, industry, and country. However, I am not among the triple jumpers.
As amazing as University of Oxford's Saïd Business School has been so far, I have figured out that "there's no place like home," and I definitely want to return to the U.S. As a follow-up on my previous entry, I'm closing the door on non-U.S. post-MBA jobs.
Spring break helped drive this point home (no pun intended). It was a great mix of work and fun. Four classmates and I journeyed to Ghana to meet with entrepreneurs in the Meltwater Entrepreneurial School of Technology (MEST) with whom we had been working for several months. We each had a team of students we were coaching as they graduated from being entrepreneurs-in-training and prepared for the Meltwater Incubator. It was incredible to work with them and be in the same incubator that created Saya, which provides text messaging for low-end devices in emerging markets.
Afterward, I participated in a trek to the motherland to visit another mecca, Silicon Valley. More than 25 classmates and I met with technology companies, venture capitalists, startups, and more to learn about opportunities. The highlights of the trip were visiting awesome companies and networking with alumni.
Our entire class is in disbelief that we are already in our final full term together. Outside the excitement of taking electives, and the weather finally getting a bit warmer, this term we begin our entrepreneurial projects, which count as two courses. Most students stayed in the same groups as our GOTO project from last term.
We have regular sessions with our tutor to develop the idea we decided on as a team. We have decided on roles for ourselves among the group and are currently working on our business plan. This is an opportunity to take what we've learned from our core courses and apply it. For others, who came into the program wanting to start a company, this is the perfect chance to have a team of decided (and, more important, free) labor to help you develop your idea and make it come to fruition. In years past, some of these entrepreneurial projects have turned into full-time companies post-graduation.
This term is bittersweet. We are all taking elective classes that align with our interests, enjoying the warmer weather each day, and having fun in our entrepreneurial group. However, this one-year program has flown by way too fast.
Before it's here, it's on the Bloomberg Terminal.
LEARN MORE