Billionaire's Shirtmaker Joins Non-AAA Debt Sales: India Credit
Anurag Joshi and Anoop Agrawal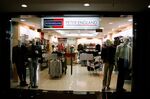 India's lowest borrowing costs in almost 2 1/2 years are attracting non-AAA rated borrowers such as Peter England Fashions & Retail Ltd. to build on record first-quarter bond sales.
The men's shirtmaker, owned by billionaire Kumar Mangalam Birla's Aditya Birla Nuvo Ltd., is in a pipeline of at least 10 billion rupees ($184 million) of offerings, data compiled by Bloomberg show. Companies without a top rating, which usually lack state backing, sold 39.2 billion rupees of bonds in April after raising 71.5 billion rupees in the previous three months.
India's tycoons are adding spice to a debt market where issuance has already risen about 5 percent this year after the central bank cut interest rates for a third time to boost the slowest growth in a decade. Three-year AA bonds yield an average of 9.1 percent, compared with 5.09 percent in China.
"More private companies will sell bonds as appetite from mutual funds and insurance companies is high," Shashi Kant Rathi, head of debt capital markets at Axis Bank Ltd., the top arranger of rupee bonds this year, said by telephone yesterday. "Yields on corporate bonds will ease depending on how much the Reserve Bank of India cuts interest rates."
The average yield on three-year notes rated AA by Crisil Ltd., the local unit of Standard & Poor's, has slumped 100 basis points, or 1 percentage point, in the past year and is at the lowest level since Dec. 1, 2010, according to indicative rates compiled by Bloomberg based on data from the Fixed Income Money Market and Derivatives Association of India, or FIMMDA. A similar gauge for China fell 57 basis points in 12 months.
Benchmark Yields
The yield on the government's benchmark 10-year debt has fallen 91 basis points in the past year, while the rate on three-year bonds declined 68 basis points, data compiled by Bloomberg show. The yield on the 8.15 percent note due June 2022 was little changed at 7.75 percent today, while the rupee weakened 0.2 percent to 54.32 per dollar.
Indian issuers have sold 826 billion rupees of bonds so far in 2013, compared with 785 billion rupees a year earlier, data compiled by Bloomberg show. Chinese companies have raised 1.5 trillion yuan ($244 billion) in 2013.
"The debt pipeline should look better in May than what it was in April, as many of the large financial institutions start their borrowing programs for the new financial year," Jayen Shah, Mumbai-based head of fixed income sales at IDFC Ltd., said by telephone yesterday. "Bond sales for the full calendar year could end up as a record."
Peter England
Aditya Birla Nuvo's unit plans to sell 2 billion rupees of three-year bonds paying a 9.25 percent coupon, according to a person familiar with the matter. Axis Bank is managing the sale, said the person, who asked not to be identified because the details are private. Separately, the parent also plans to sell 2 billion rupees of 10-year notes at 9 percent.
Peter England sells more than 5 million garments annually and is the largest menswear brand in India, according to the website of Aditya Birla Nuvo, which also runs financial, telecommunications, information technology and chemical businesses. The parent, which acquired global rights to the Peter England brand in 2000, also sells clothing under premium brands such as Van Heusen, Louis Philippe and Allen Solly.
Mumbai-based Jyothy Laboratories Ltd., a maker of household chemicals, will pay a half-yearly coupon of 9.65 percent on three-year rupee bonds, compared with 10.25 percent on similar-maturity notes sold in November, according to data compiled by Bloomberg.
Birla, Mahindra
Aditya Birla Nuvo and Mahindra & Mahindra Financial Services Ltd. are among non-AAA companies that plan to sell rupee-denominated bonds this month after RBI Governor Duvvuri Subbarao reduced the benchmark repurchase rate by 25 basis points to 7.25 percent May 3.
While Subbarao cut borrowing costs for a third straight time to help revive economic growth from a decade low, he also signaled the easing cycle may be approaching an end because of possible "resurgence of inflation pressures." Risks from the nation's record current-account deficit may force the RBI to reverse its policy stance, he said.
If inflation "recedes further" and the nation's current-account gap moderates more than expected, "space will open up for further monetary-policy easing," the governor said at a media briefing on May 3. The shortfall in the widest measure of trade, swelled to $32.6 billion in the quarter ended Dec. 31, or a record 6.7 percent of gross domestic product, according to the Reserve Bank of India, stoked by gold and oil imports and subdued exports.
'Not Complete'
Deutsche Bank AG and Kotak Mahindra Bank Ltd. are among lenders that expect the central bank to reduce interest rates by another 25 basis points at its next policy review on June 17. Goldman Sachs Group Inc. expects the RBI to pause next month, and sees a more than 50 percent chance of a reduction on July 30, according to analyst Tushar Poddar.
"We believe the monetary easing is not complete yet," V. Srinivasa Rangan, executive director at Housing Development Finance Corp. in Mumbai, said in a May 3 telephone interview. "Central bank measures helped managing the inflation risks, and more such steps will help accelerate growth. On the demand side, borrowers are waiting for the appropriate opportunity and are more optimistic."
Room for borrowing costs to decline is limited by inflation risks. While wholesale prices rose 5.96 percent in March, a 40-month low, consumer-price inflation above 10 percent is "sticky," the RBI said in its May 3 statement.
Monetary Policy
"Borrowing costs aren't going to come down for the corporate sector as long as liquidity is in sharp deficit," Ganti N. Murthy, head of fixed income at Peerless Funds Management Co. in Mumbai, said in an interview yesterday. "Banks have hardly any scope to pass on the impact of repurchase rate cut. Most of the funds available for investment will find their way to government bonds in the short term."
Monetary policy alone can't revive growth, the RBI said, adding the government needs to ease supply bottlenecks, improve governance, step up public investment and maintain the commitment to fiscal consolidation.
India's default risk has ebbed after Prime Minister Manmohan Singh's government in September began opening up industries including aviation and retailing to foreigners and cut taxes on companies' overseas debt.
The cost of insuring the debt of State Bank of India, considered a proxy for the sovereign, using five-year credit-default swaps fell 40 basis points since Dec. 31 to 186, according to data provider CMA, which is owned by McGraw-Hill Cos. and compiles prices quoted by dealers in privately negotiated markets.
"Demand for funds has jumped as there is an understanding that the central bank will further ease monetary policy to support growth," Ashish Sable, a senior vice president at SBI Capital Markets said in a May 2 telephone interview. "Issuance this year may reach a record."
Before it's here, it's on the Bloomberg Terminal.
LEARN MORE