Baruch, San Diego Student Investors Take Top Honors
by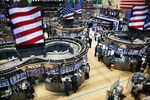 Student stock analysts at Baruch College have a new award to polish their résumés with this summer: Just like the equity research team at J.P. Morgan, they too took the top honor in an Institutional Investor ranking of best equity analysts.
For more than 40 years, the magazine has crowned a bank the winner based on the strength of its research, and J.P. Morgan has ranked No. 1 for the past three years. Institutional Investor brought the competition to college campuses for the first time this year, and in April announced that Baruch had more students than any other school make its cut of top 100 analysts. More than 700 students from 34 schools participated.
Thirteen students at Baruch placed, the highest of which came in third. Drexel University, followed by the University of Texas at Austin, had the second- and third-most representation, with 11 and nine students in the top 100, respectively. The inaugural first-place individual finisher, Daniel McAllister, is an MBA candidate at the University of San Diego and a former financial analyst for Jack in the Box, the San Diego-based quick-service restaurant company.
The contest aims to highlight "the ongoing question of just what is the right approach for young people coming out of school into the world of finance and investing," according to Institutional Investor.
About a third of the magazine's top 100 student finishers are MBA candidates. Many others are from undergraduate business programs that have a designated faculty member overseeing research efforts.
The students also had professional guidelines to adhere to: They followed a Federal Reserve Board rule designating a 50 percent margin requirement on initial stock purchases. They each started with $100,000 and were free to trade in seven industry sectors, with the winners judged on portfolio performance and other investment factors. The trading books were maintained in a server similar to those used by professional financial institutions.
"As rapid-fire trading, as opposed to buying and holding, has taken over the professional world," the magazine reports, "finance students are forced to consider or reconsider what makes them valuable assets as they look to join the workforce."
Join the discussion on the Bloomberg Businessweek Business School Forum, visit us on Facebook, and follow @BWbschools on Twitter.
Before it's here, it's on the Bloomberg Terminal.
LEARN MORE