The 5 Wackiest Things I Heard at the NRA Convention
Paul M. Barrett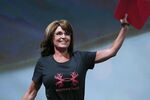 What to do in the wake of a major victory in Washington over gun control proponents? That was the challenge facing the National Rifle Association at its May 4-5 annual meeting in Houston.
At various rallies and speeches, here's what some NRA headliners had to say:
1. Wayne LaPierre: I told you so. Looking more relaxed than in his pugnacious post-Newtown massacre appearances, the NRA's chief executive officer congratulated himself on being right that President Obama would open his second term by pushing for firearm restrictions. Obama did make LaPierre seem prescient. In Houston the NRA honcho upped the ante, claiming that the president "launched an historic, all-out attack, a siege on our gun rights." (Really? The centerpiece of the Obama agenda, comprehensive background checks, is an idea that LaPierre endorsed in 1999.) The NRA has added hundreds of thousands of new members since Newtown, bringing its rolls to 5 million, according to LaPierre, and he wants to double that. "They're coming at us with a vengeance to destroy us," he warned. "It's up to us to get to work right now with an NRA large enough and strong enough to defeat" any foe. Translation: open your checkbooks, gun owners.
2. Bushmaster: Never say you're sorry. The Newtown shooter slaughtered 20 first-graders and six educators with a semiautomatic military-style rifle equipped with 30-round magazines. The manufacturer of that weapon, Bushmaster, part of the Freedom Group conglomerate, came in for tough scrutiny. Facing investor protests, Freedom Group's owner, the New York private equity firm Cerberus Capital, announced it would sell the country's largest gun-and-ammo manufacturer, although a buyer hasn't been announced. Meanwhile, Bushmaster wasn't lowering its profile at the NRA confab. At its booth on the bustling exposition floor, Bushmaster invited children to pose for photos with a .50-caliber sniper rifle with a 30-inch barrel. The BA50 offers "monstrous long-range power." In a promotional booklet, George Kollitides, Freedom Group's CEO and a former member of the NRA nominating committee, said Bushmaster builds "each rifle with purpose and passion—yours."
3. Sarah Palin: Malign the media. Wearing a form-fitting T-shirt that said "Women Hunt," the 2008 vice presidential candidate reminded listeners that "the elite media" are still out to get them. "That same media is now the reliable poodle-skirted cheerleader for the president that writes the book on exploiting tragedy," she added. (I wasn't around in the 1950s, but did cheerleaders wear poodle skirts on the sidelines?) This followed Palin's inventive insult a few days earlier, when she scorned attendees at the April 27 White House Correspondents' Dinner in Washington as "D.C. ass-clowns" enjoying "a nerd prom."
4. Representative Steve Stockman: Impeach Obama! Aides to the congressman, who invited pro-gun guitarist Ted Nugent as his plus-one to the State of the Union Address in February, handed out copies of a newspaper entitled NRA Convention News. There Stockman suggested: "Obama Abuses of Power Could Lead to Articles of Impeachment." The East Texas Republican lawmaker described the president's "full-scale executive branch assault on our Second Amendment rights" as "questionable—and possibly criminal." Stockman reminded constituents: "We all saw how Bill Clinton abused his power as president back then, but Barack Obama blows him out of the water!"
5. Representative Sheila Jackson Lee: Let's meet halfway. While some 70,000 NRA celebrants walked the 400,000 square feet of Houston's convention center, a couple dozen protesters kept vigil across the street in Discovery Park.
"We're not against the NRA," said Representative Jackson Lee, a Democrat from gun-friendly Houston who supported the failed bipartisan compromise on expanded background checks. "The only question we're asking this group is, 'Can you put down your arms of politics and lift up your arms of reconciliation?'"
This may have been the strangest line uttered all weekend, in that the answer was so obviously, NO! The NRA has adopted "Stand and Fight" as its battle slogan. Inside the convention hall there was not even a whiff of olive branches.
Before it's here, it's on the Bloomberg Terminal.
LEARN MORE