Buffett Fuels Shekel Rally on Takeovers: Israel Overnight
Leslie Picker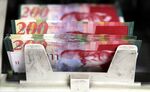 The shekel completed its longest stretch of daily gains in more than three decades after billionaire Warren Buffett's Berkshire Hathaway Inc. agreed to pay $2.05 billion for a stake in an Israeli company, the latest of almost 150 acquisitions in the country in the past year.
The shekel has rebounded 15 percent from a three-year low reached in July, leading gains among 31 major currencies tracked by Bloomberg. Net foreign direct investment in Israel tripled to $1.04 billion in February from $337 million in December, Bank of Israel data show. Deals such as Berkshire Hathaway's purchase last week of a remaining stake in Tefen, Israel-based IMC International Metalworking Cos. are supporting the currency, according to Credit Suisse Group AG.
"If you want to buy a company in Israel, you have to buy shekels to pay for it," Anezka Christovova, a foreign-exchange strategist at Credit Suisse in London, said by phone May 3. "If you combine that with other factors, we've seen a supportive flow story."
The shekel strengthened for a 12th day May 3, adding 0.4 percent to 3.5549 per dollar and capping the longest stretch of daily gains since at least April 1981, when Bloomberg started compiling data. The Bloomberg Israel-US Equity Index of the largest Israeli stocks in New York jumped 2.5 percent last week as Alon Blue Square Israel Ltd. and Cellcom Israel Ltd. surged.
Berkshire Hathaway, based in Omaha, Nebraska, agreed May 1 to purchase the 20 percent stake of IMC, known as Iscar, that it didn't already own. Buffett's company took control of the Israeli manufacturer, which makes cutting gear for industries including aerospace and autos, in 2006.
Gas Output
Israeli companies were the target of 148 deals totaling $5.39 billion over the last 12 months, according to data compiled by Bloomberg. That's the fourth-largest amount by dollar value in the Middle East and Africa region, after Egypt, South Africa and Nigeria, the data show.
Cisco Systems Inc., the world's largest maker of networking equipment, agreed to buy closely held Intucell Ltd., based in Ra'anana, Israel, for about $475 million in January. NCR Corp. completed its acquisition Feb. 6 of Retalix Ltd., the Israeli maker of supermarket software, for about $650 million, the company said in a statement.
In addition to foreign investment, gains in the shekel have been driven by the start of domestic natural gas production in Israel and prospects the government will act to boost economic growth, according to Steven Schoenfeld, the New York-based founder of BlueStar Global Investors LLC.
Currency Intervention
The Israeli currency closed May 3 at its strongest level versus the greenback since Aug. 17, 2011. The central bank bought dollars April 30 in a bid to weaken the shekel, according to traders from Union Bank of Israel Ltd. and Bank Leumi Le-Israel. The Bank of Israel said that it purchased dollars for the first time in two years April 8.
Along with the specter of intervention, the prospect Israel's government will create a fund to damp appreciation in the shekel limits the outlook for the currency's strength, Schoenfeld said in a phone interview May 3.
Israel's 1.75 percent base lending rate compares with a record-low benchmark of 0.5 percent in the euro region, the zero to 0.25 percent rate in the U.S. and key borrowing costs of 0.1 percent in Japan. The yield differential fuels capital inflow and bolsters the shekel, Bank of Israel Governor Stanley Fischer said in Jerusalem April 29.
The Bloomberg Israel-US stock gauge advanced to 90.52 last week, the highest close since March 21. Israel's benchmark TA-25 Index last week slumped 0.1 percent to 1,204.53, paring a one-year gain of 3.2 percent, the least among 24 developed equity markets compiled by Bloomberg. The benchmark gauge slipped 0.1 percent at the close in Tel Aviv.
Blue Square
Cellcom, Israel's largest mobile provider, posted the biggest advance on the Israel-US measure last week, jumping 8.1 percent to $9.88, the highest level since Nov. 30. The Netanya-based company's shares in Tel Aviv today added 0.1 percent to 34.98 shekels, or $9.84.
Blue Square advanced 7.5 percent to $3.87 on prospects higher food prices will stoke revenue growth for the Rosh Ha'Ayin-based supermarket retailer. Shares in Israel gained 1.2 percent today after rallying 5.1 percent last week.
Prolor Biotech Inc. had the steepest decline on the index last week, slipping 2.7 percent to $6.13. In Tel Aviv, the Nes Ziona-based drugmaker's shares today fell for a fifth day, declining 1.6 percent to 21.60 shekels, or $6.08.
Before it's here, it's on the Bloomberg Terminal.
LEARN MORE