Aquino Moves to Strengthen His Control of Senate: Southeast Asia
Joel Guinto and Clarissa Batino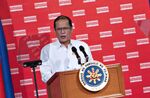 Philippine President Benigno Aquino spent a third of his working days in the past two months campaigning for allies seeking seats in the senate, where he barely won the vote to raise tobacco and liquor taxes.
Aquino, who enjoys the support of almost three-quarters of the electorate, is using that popularity on behalf of candidates vying for the 12 senate seats being contested in May 13 polls. Filipinos will also choose members of the House of Representatives and other local officials.
The 53-year-old president needs a stronger grip on the 24-member body to cement his legacy by passing legislation on fiscal prudence, mining and the central bank, as well as relaxing foreign ownership curbs to attract investment. Aquino is using his popularity like his late mother Corazon, who won 22 of 24 Senate seats for the administration in 1987, the first election a year after the ouster of dictator Ferdinand Marcos.
"The broader challenge for Aquino is pushing reforms that will ensure continuity," said Ronald Mendoza, executive director of the Manila-based Asian Institute of Management Policy Center. "He needs to institutionalize these changes so that when he leaves, his successor will have no choice but to continue these because people expect him to."
During the first half of his six-year term, Aquino impeached the top judge of the country's highest court for concealing his wealth, opposed the Catholic Church when he enacted a bill that provides free contraceptives, especially for the poor, and defeated the tobacco lobby when he passed the so-called sin tax on cigarettes and liquor. The sin tax law was won only by a one-vote margin in the senate, while the contraceptives bill was first proposed 14 years ago.
Approval Rating
The approval rating for Aquino, known as PNoy or Noynoy in the Philippines, rose 4 percentage points to 72 percent in a March survey of 1,800 adults, polling company Pulse Asia Inc. said in an e-mailed statement on April 8.
Team PNoy, the party named after Aquino, will probably win at least nine of the 12 seats, Budget Secretary Butch Abad said, citing the latest poll by survey company Social Weather Stations. Before Aquino started campaigning, only six of his people were in the top 12 among candidates in surveys, said Abad, Aquino's campaign manager in 2010.
Of the 16 politicians running for the senate with a "statistical chance" of winning, 11 are candidates of Aquino, Pulse Asia said in an April 30 statement.
House to House
Aquino, one of Time Magazine's 100 most influential people this year, flew to Samar province in the Visayas on April 26, a day after arriving from an Association of Southeast Asian Nations summit in Brunei. He campaigned from house to house in Mindanao's General Santos City the next day, rested for one day, and was back on the road south of Manila on April 29.
"I've been so busy, getting sick would need an appointment," Aquino said with a hoarse voice during a televised speech on April 30 after being on the campaign trail for 11 days last month, based on his official schedule.
The opposition led by Vice President Jejomar Binay and former President Joseph Estrada remains optimistic its candidates will do well on May 13, spokesman Toby Tiangco said. Estrada, impeached in 2000 for corruption, is running for mayor in the city of Manila.
The $225 billion economy expanded 6.6 percent in 2012, the fastest pace in Asia after China, and the government forecasts growth of as much as 7 percent this year. Higher tax collections and closer scrutiny of public finances narrowed the budget deficit from a record in 2010, allowing the government to bolster infrastructure spending.
Reform Agenda
The Philippines won its first investment-grade debt rating from Fitch Ratings Ltd. on March 27, sending the benchmark stock index to record highs and borrowing costs to all-time lows. Standard & Poor's followed on May 2 when the credit rating was raised to BBB-, also investment grade.
In the next three years, "high up in the agenda" will be amendments to the mining law, legislation to rationalize tax breaks and identifying a revenue source for every measure that entails spending, Abad said.
More than 90 percent of business executives in the Philippines favor changing the economic provisions of the constitution to attract more foreign investments, according to a February survey by the Makati Business Club.
The constitution reserves ownership of land and media to Filipinos and restricts foreign stakes in public utilities to 40 percent, including telecommunications, water and transportation.
Mining Ban
"Legislation on mining, central bank, foreign ownership, rationalizing fiscal incentives and even the freedom of information are very important to ensuring the Aquino legacy," said Eduardo Francisco, president of BDO Capital & Investment Corp., a unit of the country's largest bank.
While Aquino seeks to boost foreign investment, he also wants the country to benefit more from future agreements. In July, he expanded a mining ban and suspended new projects until he has convinced congress to approve a higher government share in resource contracts, Environment Secretary Ramon Paje said May 2. Xstrata Plc's stalled $5.9 billion gold and copper Tampakan project in South Cotabato would be the nation's biggest foreign investment deal.
"Amendments to the mining law and loosening some of the foreign ownership limits would be among the important items," said Euben Paracuelles, a Singapore-based economist at Nomura Holdings Inc. "Having both houses of congress on your side would definitely help the reform momentum increase from here."
Regional Laggard
The Philippines received $1.87 billion in foreign direct investment in 2011, the least in Southeast Asia, according to the World Bank. Almost 28 percent of Filipinos were living in poverty in the first half of 2012, little changed from 2009, the government said April 23.
Still, the main stock index reached a record this month. The benchmark 25-year bond rate fell to 3.83 percent on April 23, the lowest since Bloomberg started compiling the data in 2000. The peso has gained 3 percent in the past 12 months.
Senatorial candidate Grace Poe, the daughter of Fernando Poe Jr., has benefited from Aquino's backing, jumping to a tie in 10th position from a three-way tied at 26th in August, according to the April 23 Social Weather survey. Her father lost to Gloria Arroyo in the 2004 presidential elections.
"Aside from the usual biases, surveys can create a bandwagon effect because voters love winners," Benito Lim, a political science professor at the Ateneo de Manila University, said in an interview. "Surveys done two weeks before the elections are usually the most accurate."
Before it's here, it's on the Bloomberg Terminal.
LEARN MORE