VW $10 Million Gift, Matt Dillon for Refugees: D.C. Scene
Stephanie Green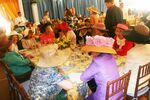 "My first car was a Jetta," said Caroline Cunningham, the president of the Trust for the National Mall yesterday at its 6th Annual Benefit Luncheon.
She was introducing Jonathan Browning, chief executive and president of Volkswagen Group of America, who pledged $10 million from the carmaker for the trust. The funds will be used to help redesign Constitution Gardens and the grounds of the Washington Monument.
The event was held in a white tent on the Mall. Guests wore elaborate hats and headpieces. They dined on game hen and buttermilk pound cake.
Browning, a native of Britain, shared a table with former Secretary of the Interior Ken Salazar and Jay Johnson, former chief executive of General Dynamics Corp.
Other guests included Michael Chertoff, the chairman and co-founder of the Chertoff Group, and Congressman Jim Moran, Virginia Democrat.
During his remarks, Browning conceded that the guests may be wondering why a German company with a British executive would be interested in the National Mall. He said that the company views the Mall as "living symbol of American Democracy," a place where 25 million visitors each year come to "learn, rally, relax and be inspired."
Browning gave the hat choices "a 9-plus," adding that the crowd could "seamlessly" move from the National Mall to Ascot.
Matt Dillon
Matt Dillon was the master of ceremonies at last night's Refugees International 34th Anniversary Dinner at the Andrew Mellon auditorium.
The actor sat next to Kati Marton, the author and widow of diplomat Richard Holbrooke. She presented Jacques Sebisaho, a refugee activist in the Democratic Republic of Congo, with an award named after her husband.
Dillon, who knew Holbrooke and was inspired by him to get involved with the plight of refugees, said he'd had a chance to see Sebisaho's work first hand.
"Holbrooke would have liked him," Dillon said.
Nobel Peace laureate Jose Ramos-Horta was honored for his service to the people of Timor-Leste. Congressman Donna Edwards, the Maryland Democrat, was given the organization's leadership award for her work on behalf of Afghan women.
Among the other guests were former U.S. Ambassador to the United Nations Bill Richardson and Samantha Power, a special assistant to President Barack Obama and a staff member of the National Security Council.
Google Inc. was a co-benefactor of the event, helping Refugees International bring in more than $600,000, and was represented by Alex Long and Ben Blink, policy analysts in the company's Washington office.
(Stephanie Green is a writer and photographer for Muse, the arts and leisure section of Bloomberg News. Any opinions expressed are her own.)
Muse highlights include Sam Knight on books, London and New York weekend recommendations.
Before it's here, it's on the Bloomberg Terminal.
LEARN MORE