pursuits
Smart TV Sales Don't Mean Smart TV Use
By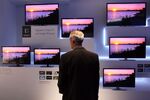 A headline and summary from GigaOM would have you believe that smart TVs—those with built-in Internet connectivity and apps—are wiping the floor with Roku, Apple TV, and other set-top boxes that provide many of the same services.
"Take that, Apple TV: Smart TVs twice as popular as dedicated streaming boxes," reads the headline. It's followed by a summary that reads, "Roku boxes and Apple TV streaming devices may be on everyone's mind, but smart TVs with Internet apps are actually a lot more popular."
Is that so? According to the Diffusion Group study the article is pegged to, "The ownership of Smart TVs has roughly doubled over the last year, with 25 percent of broadband households owning at least one Smart TV, compared to 12 percent in 2011. Dedicated streaming devices on the other hand grew slower, inching up from 12 percent in 2011 to 14 percent in 2012."
By GigaOM's logic, 3D TV sales are robust as well. Many TVs made and sold today come with such features as 3D and Internet compatibility built in. But that's like saying that cruise control is wildly popular because it's sold in nearly every car today. An install base is not the same as active use. And in spite of the punchy headline and summary, the GigaOM post does point that out in the third paragraph:
Of course, one should note that owning a device isn't the same as using it. Only 69 percent of Smart TVs are connected to the Internet, according to the report, whereas one should assume that most streaming boxes are connected ….
I mean, I have a smart TV. I even connected it to my home's Wi-Fi network when I got it, because I'm nerdy and like to be thorough. Since then, though, I've never accessed a single one of the online features. Instead, I use my Apple TV, which has a better interface, connects to my music and photos, and lets me browse the iTunes store for movies and shows in addition to Netflix, Hulu, and other services.
Diffusion's report doesn't say that TV-based apps and interfaces are popular. It just says that TV manufacturers are trying to put them in as many displays as they can.
Before it's here, it's on the Bloomberg Terminal.
LEARN MORE