Small Business Hiring Is Down. Nope, It's Up
By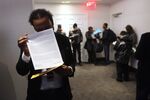 There are a number of surveys that attempt to gauge small business's role in the U.S. economy, and it's no secret to those who follow the results that the data are often conflicting. Here's a look at some of the numbers released this week:
The monthly SurePayroll Hiring Index, which mines more than 15,000 payroll records for employers with up to 100 employees, showed hiring fell 0.2 percent in April from March, and is down 1.5 percent for the year.
A survey of about 1,800 National Federation of Independent Business members, on the other hand, showed the average firm added 0.14 workers in April, the fifth consecutive month in which employment rose. About 90 percent of the organization's members have 20 or fewer employees. In addition, the NFIB survey reported that 6 percent of respondents plan to increase head count in the three months to come.
And the CBIZ Small Business Employment Index, which polls about 3,500 companies with head counts of 300 or fewer, showed month-over-month hiring increased by 0.43 percent in April.
For the bigger jobs story, Peter Coy reports that the U.S. economy added 165,000 workers last month, as unemployment fell to a four-year low of 7.5 percent. And for those with a stake in the self-employed economy, unemployment for self-employed, unincorporated, and unpaid family workers was 4.5 percent last month, down from 4.9 percent in April 2012, according to the Bureau of Labor Statistics.