Plaintiffs' Lawyers Jump Ship in Pollution Fight Against Chevron
Paul M. Barrett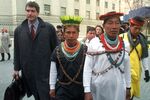 Faced with an enormous 2011 oil-pollution verdict in Ecuador, Chevron turned the tables on its main legal foe, launching a fierce counter-attack against the lead plaintiffs' lawyer in federal court in New York. That onslaught raised serious questions about the tactics that activist attorney, Steven Donziger, an American, employed to win the $19 billion judgment in Ecuador.
Now it has cost Donziger some of his most important lawyer-allies in the U.S., who have quit the fight, saying they lack the resources and will to battle Chevron.
Donziger, who practices by himself from his apartment on Manhattan's Upper West Side, engineered the largest environmental trial verdict in history in a campaign to clean up oil contamination in the rain forest in northeastern Ecuador. He and his clients, a group of poor farmers and indigenous villagers, blame the activities of Texaco in the 1970s and 1980s. Chevron, which acquired Texaco in 2001, counters that whatever oil-related pollution affected residents could be traced, not to Texaco, but to the Ecuadorian national oil company, Petroecuador, which has overseen oil operations in the region since the early 1990s.
In its counterattack, a civil racketeering suit filed against Donziger in 2011 in federal court in Manhattan, Chevron alleged that Donziger used bribes, false evidence, and even ghostwritten court documents to secure his victory. He denies the accusations, which he says the oil company is using as a pretext to avoid paying what it owes in Ecuador. Lewis Kaplan, a federal judge in New York, has set an Oct. 15 trial date for the racketeering suit. In a series of preliminary rulings, Kaplan has said he finds Chevron's allegations plausible and that he suspects Donziger of masterminding an enormous fraud against the oil producer.
Lending Donziger some hope of withstanding Chevron's barrage was his ability to hire one of the best known white-collar defense lawyers in the U.S., John Keker of San Francisco, to represent him. In an emotionally worded filing on May 2, though, Keker said he wanted out. He asked Judge Kaplan for permission to withdraw from a case that Keker said "has degenerated into a Dickensian farce."
Keker lashed out at Chevron and its law firm, Gibson, Dunn & Crutcher: "Through scorched-earth litigation, executed by its army of hundreds of lawyers, Chevron is using its limitless resources to crush" Donziger "and win this case through might rather than merit." Keker also condemned Kaplan. "Encouraged by this court's implacable hostility to Donziger, Chevron will file any motion, however meritless, in the hope that this court will use it to hurt Donziger."
In a statement Friday evening, Donziger praised Keker for fighting "valiantly" against Chevron, but said: "Judge Kaplan has made it abundantly clear he will not allow me or my Ecuadorian colleagues a fair trial in his courtroom. It makes no sense to expend further resources that we don't have for lawyers in a proceeding where the outcome is so clearly preordained by the judge."
Beneath the outrage, matters of compensation also played into Keker's withdrawal. He noted that Donziger owes his firm more than $1.4 million and has no ability to pay in the future. For the moment, Donziger will represent himself, Keker said in his filing. Craig Smyser, a well known Houston-based trial attorney representing the Ecuadorian farmers and Indians in the racketeering case, made a similar filing seeking to withdraw, saying that his firm is owed nearly $1.8 million for its labors.
In a written statement released by the U.S. public relations firm Fenton, Pablo Fajardo, the lead Ecuadorian attorney working on the case in that country, said: "As evidence grows stronger by the day of Chevron's corrupt actions in this case, we are scaling back in New York to focus on the main issue: enforcing the $19 billion judgment around the world." He dismissed events in New York as "a distraction, a sideshow aimed at exhausting our resources."
Fajardo, a former Donziger protege, appeared to be saying that his friend would have to fend for himself against Chevron. It will not be enough, however, for the Ecuadorian plaintiffs to distance themselves from Donziger.
Chevron has refused to pay a dime in Ecuador, where the company does not have significant assets. At Donziger's direction, the plaintiffs have filed fresh lawsuits in Canada, Argentina, and Brazil, seeking to collect on their verdict in those countries, where Chevron subsidiaries do have facilities. The validity of the Ecuadorian verdict in the eyes of the judiciaries of the other countries will determine whether it ever gets enforced. If the architect of the litigation that produced the $19 billion verdict—now bereft of legal counsel—is found by Judge Kaplan to be a fraudster, that will undermine the enforcement efforts. Or at least it ought to.
"The New York case is a very expensive show trial," Fajardo added in his statement, a comment that suggests Kaplan is in cahoots with Chevron. Thousands of miles from Kaplan's jurisdiction, Fajardo can afford to make provocative accusations. In Kaplan's courtroom in lower Manhattan, Donziger is more vulnerable. It seems unlikely that, as his erstwhile colleague proposes, Donziger's fate can now be neatly divorced from that of the $19 billion verdict—or that of the putative victims all that money was supposed to benefit.
Before it's here, it's on the Bloomberg Terminal.
LEARN MORE