How to Talk About This Year's Kentucky Derby
Five conversation starters for the 139th run for the roses
by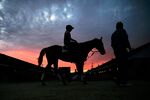 Saturday marks the 139th Kentucky Derby at Churchill Downs. Here's a cheat sheet for talking with friends and co-workers ahead of this year's run for the roses.
1. The Mansion: As part of a $9 million renovation of its namesake track, Churchill Downs Inc. has built a new viewing area called the Mansion. Business First has a slideshow of the chandeliers, lounges, and decorative hats found inside the sixth-floor clubhouse with a balcony overlooking the Derby's finish line. Capacity is 320, by invitation only, with tickets starting at $7,000. The venue, as USA Today reports, is part of Churchill Downs's strategy to boost revenue during Derby week with luxury seating and passes. Who buys a $7,000 ticket to watch a two-minute event? According to Business First, former NBA player and restaurant franchisee Ulysses "Junior" Bridgeman bought 150 seats.
2. Pitino's horse: University of Louisville basketball coach Rick Pitino owns 5 percent of Goldencents, a bay colt sitting at 5-to-1 odds to win the Derby. A victory would continue a hot streak for Pitino, whose Cardinals won the NCAA men's basketball tournament in April. To celebrate that win, Pitino got a Louisville tattoo behind his left shoulder. No word yet on whether he will ink "Goldencents" on the other side if the 3-year-old wins.
3. Jockey first: Rosie Napravnik, who's riding 15-to-1 long shot Mylute, would be the first female jockey to win the race. In a 60 Minutes profile last month, the 25-year-old New Jersey native declined to make the smooching noise she uses to urge horses to the finish line.
4. No Baffert and lots of Pletcher: Two of the biggest trainers in horse racing, Bob Baffert and Todd Pletcher, are on opposite ends of the seesaw this year. After a pair of late scratches, three-time Derby winner Baffert, a voluble, white-haired Arizona native, is not fielding a horse for the first time since 2008. Pletcher, meanwhile, has five horses in the race, including the colt Verrazano, sitting at 4-to-1 odds. Pletcher has had hard luck in past runs at the Derby, with his previous entrants compiling a collective 1-for-31 record.
5. The first family: Current favorite Orb is owned by Stuart Janney III and Ogden Mills "Dinny" Phipps, first cousins from two of the oldest stables in the country. The two are great-grandsons of Carnegie Steel magnate Henry Phipps and, as the New York Times reports, part of a "tapestry of human lineage entwined with a rich equine ancestry." Phipps, 72, told the Times this about their approach to horses: "We give them time to come along and tell us when they're ready to be on the track. … I call that old-school or something like that."
Before it's here, it's on the Bloomberg Terminal.
LEARN MORE