How '30 for 30' Changed the Web Content Game
By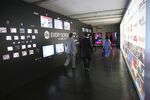 At this week's Digital Content NewFronts, the Web's version of broadcast TV's yearly upfronts, Internet companies such as Yahoo! and Hulu revealed beefed-up slates of new video content. None of the lineups, however, matched the size or celebrity star wattage of AOL's investment in original programming. Among its 15 new projects: a behind-the-scenes docudrama of the New York City Ballet, produced by Sarah Jessica Parker; a series about women overcoming adversity "through diet and exercise," helmed by Gwyneth Paltrow; and an unvarnished look at fatherhood, starring actor Hank Azaria.
Executives at AOL gave funding to the producers of each project—and that's it. "When we partner with a creator," says Karen Cahn, AOL's head of original programming, "we step aside and say, 'Just do it. You are the creative, and we are the platform.' It's about allowing creators to explore their passion."
There's a model for outlets like AOL that want to produce original content but don't have the experience or infrastructure of a Hollywood production house. In 2009, ESPN unveiled its 30 for 30 documentary series. The project gave a slew of big filmmakers—from John Singleton to Barry Levinson to Peter Berg—the opportunity to make a sports-themed doc of their choice. Ice Cube filmed Straight Outta L.A., about the Los Angeles Raiders. Spike Jonze, Johnny Knoxville, and Jeff Tremaine made The Birth of Big Air, a biography of BMX rider Mat Hoffman. "ESPN always had a vision that this would be filmmaker-driven," Mike Tollin, the director of the series' third installment (Small Potatoes: Who Killed the USFL?), told the Los Angeles Times in 2010. "They really looked to the filmmakers to generate the ideas for the stories."
Tollin has now signed on to produce a series called My Ink for AOL, a partnership announced at the NewFronts on April 29. The show will feature top athletes revealing the stories behind their tattoos. "We didn't model our partnerships after ESPN's franchise," says AOL's Cahn, "but we definitely happened upon the analogy when we partnered with Mike."
The explosion in original digital programming coincides with a rise in ad dollars. According to the Interactive Advertising Bureau, Internet-based revenue topped $36.6 billion in 2012, which marks a 15 percent increase from the previous year. And currently, 19 percent of Americans, roughly 45 million people, view "originally produced online video each month."
AOL isn't alone in signing away total creative control for content. Yahoo, for instance, is funding a show starring John Stamos, produced by Morgan Spurlock, in which the actor will sit down with other celebrities and discuss the time they lost their virginity. While this may not pack the journalistic punch of, say, director Fritz Mitchell's look at the racial tensions surrounding a civil rights-era football team in ESPN's Ghosts of Ole Miss, the business arrangement is the same.
"It's an amazing time for creators," says AOL's Cahn. They can do whatever they want.
Before it's here, it's on the Bloomberg Terminal.
LEARN MORE