Does Google Want to Be a Small Business Lender?
by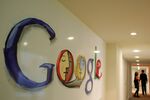 If you're a small business owner who advertises online, you're probably plenty familiar with Google's AdWords service. With Google announcing two investments in alternative lenders this week, perhaps you'll one day turn to the search giant when you're in the market for a loan.
To be clear, Google hasn't gotten into the lending business; it's simply funding businesses that are shaking up traditional lending models. In a deal announced on May 2, Google is putting up the bulk of a $125 million investment in peer-to-peer lending site Lending Club. The day before, Google's venture capital fund, Google Ventures, said it would lead a $17 million investment in On Deck Capital, an alternative lender that uses algorithms to lend to businesses banks avoid.
The two deals have implications for small business lending because Google is validating alternative models by putting its name and reputation behind them.
Let's start with On Deck, which uses data such as payroll and credit-card processing records to inform lending decisions. The number crunching lets On Deck make loans for smaller amounts than banks usually consider—its average loan is for about $30,000—and make them in a fraction of the time.
Google Ventures' investment in On Deck follows the $42 million Series D the lender raised in February. It's intended to help the company, which made its first loan in 2007, continue to expand its business and introduce new lending products.
If that means leveraging Google's relationships with small business owners, Chief Executive Officer Noah Breslow didn't let that on when I visited On Deck's new 22,000-square-foot offices earlier this week. He did say that Google Ventures would bring "a lot of functional skills" as the company seeks to build on the $450 million in loans it expects to make this year.
Lending Club was only slightly more forthcoming about the strategic opportunities created by the investment, which comes through Google proper, not the company's venture capital arm. CEO Renaud Laplanche told the New York Times yesterday that his conversations with Google initially centered on "all the cool stuff we can do together."
What might that mean? Peter Renton, the founder of Lend Academy, which provides information on peer-to-peer lending, says Google's investment should help with everything from borrower acquisition to expanding Lending Club's data pool (if privacy concerns can be addressed). Combining peer-to-peer lending with Google's nascent mobile-payments platform Google Wallet could have an even bigger impact, says Renton, perhaps allowing a customer to apply for a loan at the point of purchase.
What's that have to do with small business lending? Renton broke the news on his blog today that Lending Club plans to start making small business loans by the end of the year.
Before it's here, it's on the Bloomberg Terminal.
LEARN MORE