China Still Has a Long Way to Go to Build a Service Economy
by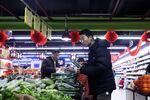 The bad news keeps coming. Following two days of dismal numbers showing China's manufacturing sector is slowing, now the service sector has disappointed. The not-so-happy takeaways: Don't expect an economic recovery soon, and Beijing's much sought-after goal of rebalancing still looks far off.
On May 3, China's National Bureau of Statistics and the China Federation of Logistics and Purchasing announced that their nonmanufacturing purchasing managers' index cooled to 54.5 in April, down from 55.6 the month before. Anything above 50 indicates expansion. The index tallies responses from 1,200 companies in 27 service industries, including retail, catering, construction, and transportation. A separate services index will be released by HSBC on May 6.
"The reading suggests that growth momentum will remain relatively soft" in the second quarter and that China's economy "has shifted to a weaker growth trajectory," Crédit Agricole CIB economist Dariusz Kowalczyk said to Bloomberg News.
Beijing has set a goal of weaning its economy off excessive reliance on investment and exports and rebalancing toward a cleaner, more sustainable, services and consumption-driven GDP. That requires an end to artificially low interest rates, the undervalued yuan, and subsidized energy prices (three-quarters of energy goes to industry), as well as more government social spending, argue Nicholas Lardy and Nicholas Borst, of the Peterson Institute for International Economics, in a February policy brief.
"Higher lending rates lead to less capital-intensive economic development resulting in more job creation, higher household income, and ultimately higher levels of household consumption," write Lardy and Borst. (Household consumption makes up a very low 37 percent of GDP today, while investment has exceeded 40 percent every year for the past decade). And "an appreciation of the currency would also decrease the profitability of the export-oriented manufacturing sector to the relative benefit of the service sector of the economy, which has languished since 2002," the authors add.
There was a glimmer of hope. In the first quarter for the first time ever the contribution by the service or tertiary sector was larger than that of manufacturing. "Structural adjustment has scored notable achievements," China's central bank said in a statement last month. Still, the performance of the nonmanufacturing portion of China's economy is still not up to snuff: Last year, tertiary industries made up just 45 percent of gross domestic product, up only four percentage points in the past decade. Beijing aims to lift that figure to 47 percent by 2015.
Even a 47 prercent level may not be ambitious enough. The tertiary sector's "share of the economy remains a full 10 percentage points lower than what is typical for other emerging markets," write Lardy and Borst, while in the U.S., services make up about 90 percent of the economy. China's latest survey suggests services may not be the serious economic driver the country needs for some time to come.
Before it's here, it's on the Bloomberg Terminal.
LEARN MORE