What Do a Chemical Engineer and a Pizza Maker Have in Common?
by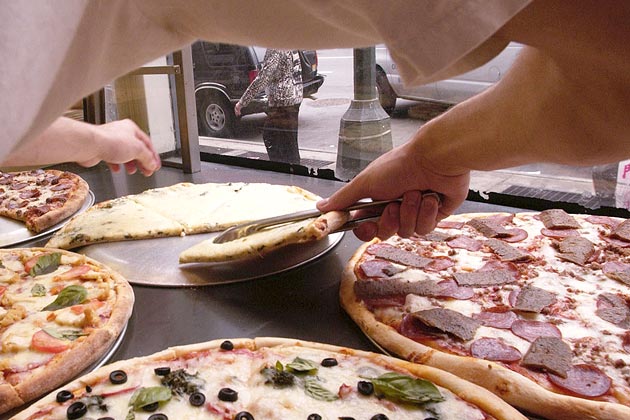 Governments around the world are short-circuiting some of their most promising entrepreneurs. Their mistake? Crafting policies that treat small businesses across industries like one monolithic group that's more interested in eking out a living than creating a venture that could eventually employ hundreds or thousands. That's the point of a paper (PDF) released today by the Kauffman Foundation.
To explain why politicians around the world tend to focus on Main Street, authors Bill Aulet and Fiona Murray posit two imaginary entrepreneurs. One is a chemical engineering professor who thinks she's on the cusp of developing a better material for building solar panels. The other is an aspiring pizzeria owner whose ambition is to penetrate the lunch market. The first entrepreneur will likely lose money for a time, but if she's successful, her company will eventually see exponential revenue growth and create high-skilled jobs. The second entrepreneur will probably grow at a linear rate—increasing revenue and jobs in proportion to investment, though the new jobs will likely be low-paying, and revenue growth capped by the size of the local market.
In other words, the tale of a fast-rising pizza maker is seen as tastier to a politician's constituents than a struggling solar innovator.
That the two entrepreneurs are different seems self-evident. But, according to the authors, governments tend to lump what they call innovation-driven enterprises (IDEs) with global ambitions together with small and medium-size enterprises (SMEs) focused on local markets in designing tax incentives, training programs, and business accelerators. In general, that's a bad thing, they explain: "We have seen that around the world, various organizations' enthusiastic efforts to support entrepreneurship fail to achieve the results they desire, precisely because they try to address SME and IDE entrepreneurship through a singular organization."
The entrepreneurship-is-entrepreneurship approach is especially bad for innovation-driven businesses, the authors write. Because politicians see more short-term benefit to supporting traditional small businesses, government efforts to encourage entrepreneurship tend to cater to Main Street. Aulet and Murray don't want governments to abandon programs for local small businesses to foster flashier technology startups. They want policies that acknowledge not all entrepreneurs are alike.
Before it's here, it's on the Bloomberg Terminal.
LEARN MORE